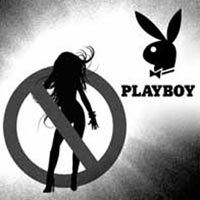 What do Marline Monroe, Pamela Anderson, Sharon Stone, and Charlize Theron have in common? They are figures whose node photos were carried on the cover of the Playboy magazine. Nude models on Playboy covers are effectively official sex symbols. Many women became celebrities after serving as cover models for Playboy, and other women fell to the abyss of sex trafficking and drugs due to the cover pictures. Playboy covers with nude models, which had been highly controversial, are disappearing for good.
The New York Times reported Hue Hefner, who publishes Playboy, decided not to carry a nude woman on the cover in its print edition beginning in March next year. It is a change as significant as the magazine's carrying of Marlin Monroe's nude body on the cover of the magazine's inaugural issue in 1953. The decision, which has been reached at the suggestion of Cory Jones, the chief content officer, will likely have significant influence on editorial direction of other similar adult magazines such as Penthouse and Hustler.
Is a Playboy magazine without a nude photo "meaningless and not interesting?" Since September last year, the online edition of the magazine has not been carrying nude photos. As a result, the average age of its readers has declined, while the number of visits to the website has significantly increased. In an era when nude photos of women are everywhere on the Internet, nude shots that are not very revealing and exposing presented on Playboy cover are not very competitive. On the contrary, the element that attracted people to the Playboy website was its distinctive and special contents that are unique to the magazine. In fact, the magazine carried interviews with famous figures including Martin Luther King, Bill Clinton and Steve Jobs, and elegant short stories.
The U.S. magazine industry is facing a crisis as readers have shifted to online en masse. Publication of Life Magazine with 71-year history was discontinued, and Newsweek was also discontinued before being revived recently. Playboy, which would have 7.5 million copies printed in 1975, has shrunken to 800,000 copies printed at present.
In an era when people can freely watch pornographic images just through a click of mouse as they please, readers do not want to open their wallets just to see nude photos. The discarding of cover nude photos, which have been Playboy's de facto icon, is testament to the magazine's desperate efforts to survive the wild waves of change dubbed the Internet.
shchung@donga.com