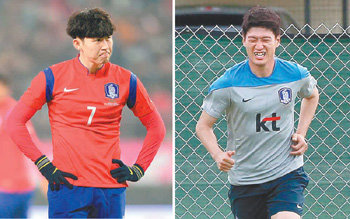 An injury prevented Son Heung-min (aged 23, Tottenham Hotspur) from running for preliminary away match for Asian region against Kuwait on Oct. 8 for the 2018 World Cup in Russia.
On Thursday, a British sports broadcasting channel "Sky Sports" quoted Tottenham Hotspur head coach Mauricio Pochettino to announce injury problems of Son. "[It`s] bad news about Son because he got a foot injury in the game against Manchester City on Sept. 24, and we have to assess him for the next few weeks," the head coach said at the interview with Sky Sports. "I think he will stay with us because it is impossible to travel with his national team. It`s not a big issue but, we need to assess him day by day, but maybe [he`ll miss] a few weeks out."
"Our medical staff will monitor his progress during his rehabilitation in order to determine when he will be fit to return to training," Tottenham told reporters without explaining where and how seriously Son was injured.
Since a coach of a football club is not entitled to reject player's temporary transfer from International A match, Pochettino's comment that Son may not run for the match this time can be interpreted that his injury could be serious. Announcing Son's injury problem, British media described Son's injury as "unknown."
Although the club was not specific about his injury, he is known to be injured with membrane that covers the muscle on the sole of his left foot, which doctors usually call "Plantar Fascia Rupture." The medical community reckons that the rupture requires as long as four to six weeks of recovery. Pochettino's comment of "Son's condition needs to be assessed for the month of October" is in the same context.
"As his team is now assessing his condition, we will further wait and see if we could call Son for the match against Kuwait," the Korea Football Association said.
"Lee Chung-yong (aged 27, Crystal Palace) who was on the national team call list for Kuwait match is also out from the list for October as he was diagnosed with two-week treatment from right foot sprain during his practice," the association added. It decided not to select Lee's replacement.
wing@donga.com