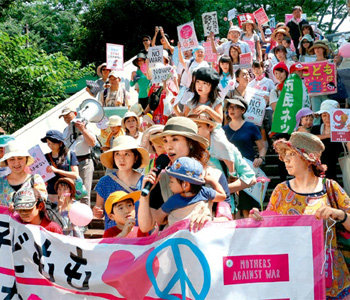 "These babies are not born to kill others or to be killed."
In Sunday afternoon, some 2,000 Japanese mothers rallied holding kids or pushing strollers in Shibuya, known as the "street of the youth." These protesters marched chanting slogans such as "Mothers decided not to have wars," and "We cannot let any children die."
Not only in Tokyo, but also across the nation including Niigata, Kyoto and Fukuoka, protesters rallied in protest at revision of laws to extend Japan's military role, which is led by Prime Minister Shinzo Abe. Now mothers are joining the rally following the suit of college students.
"We're not experts in military and diplomacy. But we are raising children at home every day, which highlights the importance of life. The Congress must not pass the security legislation package," said Minako Saigo, 27, who organized the "Mothers Against War" group in the Internet three weeks ago, in an interview with Kyodo News.
Even women's magazines, which usually carry articles not related to the politics, started criticizing the Abe administration. The weekly "Woman Herself" put columns titled "Prime Minister Abe is a shame of the world," and "War makes women and children cry." Weekly magazines that often published anti-Korea articles are now joining forces to criticize the Japanese prime minister. The "Weekly Modern Times" mentioned names of potential candidates for the next prime minister election.
Plummeting support rates of the Abe administration are also witnessed in surveys conducted by six major newspapers. In a telephone survey conducted by the right-wing press Yomiuri Shimbun between Friday and Sunday, the number of respondents who said they do not support the Abe administration increased by 9 percent to 48 percent, compared to the poll conducted earlier this month. On the contrary, the share of Abe's supporters decreased by 6 percent to 43 percent. In the surveys conducted by other newspapers including Nihon Keizai, Asahi, Mainichi, and Tokyo Sankei, opponents against the Prime Minister outnumbered supporters. In all surveys by six major newspapers in Tokyo, the reversal phenomenon in Abe's support rate was found for the first time since he returned to power.
Yomiuri Shimbun said, "The administration and the ruling party are shocked." A turbulence is sensed even inside the ruling Liberal Democratic Party (LDP). "A leader that we need in the future is not a strong leader. The true leader needs strengths to embrace a person that he or she dislikes," said Seiko Noda, the former chairperson of the LDP's General Council, aiming at Abe in an opening speech at the International Women Business Conference on Sunday where Abe attended. It surprised Japanese press since there has been no criticism against Abe inside the LDP.
However, many political experts say it is too early to say that Abe`s power has weakened. "In Japan, it is not the public but a political party that decides the prime minister. As approval rates for the LDP are still high and many people are disappointed by the main opposition Liberal Party, the Abe administration is not likely to collapse," said a Japanese politics scholar who asked for anonymity. Experts also view that Japan's national character that follow the majority, once decided, is another reason for the Abe administration to have confidence.
Okamoto Yukio, an outside director of Mitsubishi Materials, wrote a column to Sankey Shimbun on Monday which stated, "Korean forced laborers that Korea argues are different in its character from prisoners of war. Chinese forced laborers taken to Japan are similar to war captives." Okamoto has pursued to extend an apology to American prisoners and compensate to Chinese forced laborers during the World War II. Okamoto's argument is expected to spark controversy since it is in line with the Japanese government's claim that Koreans were legally forced to labor under the general mobilization law as Koreans were Japanese citizens by Japan's colonization of Korea in 1910.
bae2150@donga.com