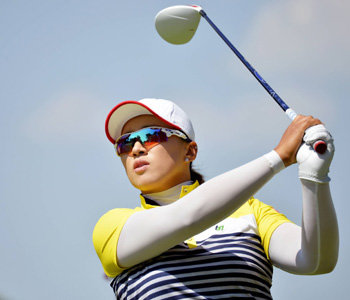 Yang Hee-young (26), who was nicknamed "Park Se-ri of the southern Hemisphere when studying golf in Australia, has been in a slump, winning just one title from 2009 when she debuted in the US LPGA tour until last year. After her contract with KB Financial Group ended in 2013, she has not been able to find a sponsor, and is still participating in tournaments wearing a cap without any sponsor logo on it even these days. Having bitten a bullet, she has won another LPGA title in this season, and is poised to win her first major title in her career.
Yang had one under par in the third round of the U.S. Women's Open. She has thus posted under par for three consecutive days to keep her lone lead with an interim record of eight under 202 in the tournament held at Lancaster Country Club (par 70; 6,289 yards) in Pennsylvania on Sunday. Yang, who emerged to take the lead by garnering four consecutive birdies in the second round the previous day, was in a tight race with Stacy Lewis of the U.S., who tied for second with a gap of two pars after Yang in the same group as her.
Yang posted three birdies and two bogeys through Hole 9, the same record as Lewis.' Then, she garnered birdie at Hole 13, and was seen distancing herself from Lewis. However, Yang committed bogey at Hole 14, at which Lewis had birdie, and Yang started being chased again with a gap of two pars. Then, Lewis committed bogey at Hole 17, allowing Yang to keep a gap of three pars since then.
Yang is set to compete for the title with Lewis in the same group as the latter in the fourth round. She said, "Just as I practiced, I will play in a comfortable way on the final day." Lewis said, "I pressured Yang with good shots, but she countered my offensives without being daunted," in expressing regret. Yang and Lewis competed for the title at the Honda Thailand in March, in which Yang eventually won the title, and Lewis the runner-up. Lewis, who is ranking third in the world, also ended up winning the runner-up at the Founders Cup that followed the Honda event, after staging a fierce battle with Kim Hyo-joo (20) by exchanging birdies.
Meanwhile, Jeon In-ji (22) is ranking three with four under 206, and Choi Un-jeong (25), Park In-bee (27), and Lee Mi-hyang (22) are tying for fifth with two under 208. Choi garnered six birdies without committing a bogey until the first half on the day, and thus broke the record of Hemisphere when studying golf in Australia minimum pars played at nine holes in the U.S. Women's Open. Kim Hyo-joo, who was seen on the rise after winning the KLPGA tour last week, failed to make the cut for the first time since turning pro.
trigger@donga.com