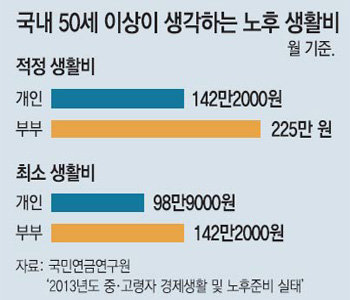 When asked about the adequate amount of monthly living expenses, Koreans aged 50 or older said they need 2.25 million won (approx. USD 1,993.5) as appropriate living expenses for a decent life, which includes movie-going once or twice a month and gift of money for family events. To just maintain basic quality of life, such as maintaining basic level of food, clothes and dwelling, Koreans over 50 said 1.42 million won (approx. USD 1,259.8) is needed per month as the minimum living expenses.
This is the result of "2013 survey on economic life and preparation for later life of Koreans in the middle and old age" released by the National Pension Research Institute of the National Pension Service on Friday. The survey has been conducted every two years since 2005 of 8,411 Koreans aged over 50.
The survey showed that the expectation on the life after retirement has increased significantly compared to the previous survey results.
In the immediately previous survey in 2011, respondents said the appropriate living expenses and the minimum living expenses would be 1.8 million won (USD 1,594.8) and 1.27 million won (USD 1,125.22), respectively. In the survey between 2005 and 2009, the monthly average living expenses have increased by 100,000 won up to 130,000 won in average.
Experts predicted that the expected living expenses could rapidly increase further, as evidenced by the survey. It is because the middle-aged in their early and mid-50 (born in the 1960s), who participated in the survey for the first time, were grown in economically better-off period than the previous generations. "Those born in the 1960s have grown in the most affluent period among adults aged 50 or over, and they have enjoyed a rich and varied cultural life. As members of this generation become old, the expected appropriate living expenses are likely to go up," said Professor Park Gi-soo of Culture Contents Department at Hanyang University.
However, on the contrary to higher standards on the living expenses after retirement, the survey showed that people have not prepared much for later life in general. Out of the surveyed adults, 80.4 percent said they do not economically prepare for the old age. The biggest number of respondents said preparation for the old age must be addressed by individuals, although the government has been providing policies to enhance welfare for senior citizens such as the basic pension. Some 63.9 percent of the surveyed adults answered "him/herself" is the most important role player in preparation for the later life. Only 9.8 percent of respondents said it is the government, which is lower than the spouse (20.7 percent) and higher than children (5.1 percent).
Meanwhile, most of the respondents said they enjoy watching TV and listening to radio as the leisure activity, followed by "conversation with family and acquaintances," "workout," and "bath and nap."
turtle@donga.com