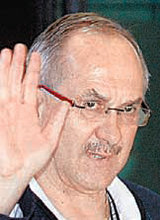 "I will select primarily younger players as much as possible." Having returned to Korea after vacation in Europe, national team coach Uli Stielike announced his plan on the 2015 EAFF East Asian Cup on Tuesday. The East Asian Cup, which will take place in Wuhan, China from August 1, will be attended by South Korea, China, Japan and North Korea.
Stielike said, "I will fill empty spots in the team with players active in the K-League, since players with European teams cannot participate. I will keep a close watch on young players from the Olympic team, and players with the K-League Challenge (minor league) as well.' The East Asian Cup is not an event for which pro soccer clubs are obliged to send their players to the national team.
On the possibility of recruiting Park Chu-young (FC Seoul), 30, Stielike avoided giving direct answer, saying, "A striker should create scenes that are threatening to the enemy team, and needs scoring capability. I will form the team for the East Asian Cup primarily with younger players." Stielike, who will lead a South Korea-Japan match for the first time in his career, said, "I know the importance of a Korea-Japan match. Since I also know well coach Vahid Halilhodzic of the Japanese national team, I will make thorough preparations." Coach Halilhodzic led Team Algeria at the Brazil World Cup last year, and helped Algeria win Korea 4-2.
creating@donga.com