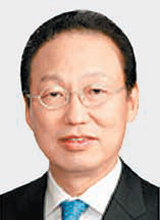 Choi Heung-sik, 62, the former President of Hana Financial Group, was appointed chief executive of the Seoul Philharmonic Orchestra which has been vacant for the last six months.
"Choi has deep understanding on the importance of culture and art through corporate's mecenat activities. As a former head of a financial group, Choi`s financial strength was highly regarded since it can be of help to secure stable financing to the orchestra," said the Seoul City on Tuesday. After studying business administration at the Yonsei University and its graduate school, Choi obtained his doctoral degree in business administration at the Universités de Lille Ⅰ, University Paris Dauphine. Choi is a business management expert who has served as president of Korea Institute of Finance, President of Hana Finance Research Institute, and president of Hana Financial Group. His term is for three years until June 30, 2018.
Some assess that this appointment is based on consideration for the orchestra's director Chung Myung-hun. Hana Financial Group has been a sponsor for the Seoul Philharmonic Orchestra since 2006. Choi himself signed on a sponsorship contract with the orchestra when he was President of the financial group.
Choi`s predecessor Park Hyun-jung, the former chief executive of the orchestra, has left office in disgrace amid allegations on verbal abuse against subordinates and feud with Chung. Afterwards, a subordinate reported Park to the police and the Seoul Philharmonic Orchestra has been under seizure two times. Seoul City carried out an audit as controversy over special treatment for director Chung has been raised. Attentions are focused on whether Choi can serve as a relief pitcher to the distressed orchestra and director Chung.