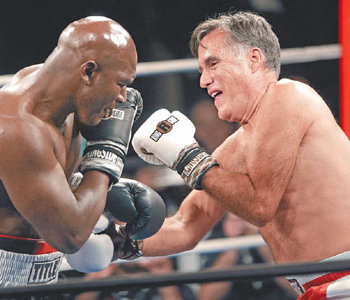 On a specially-prepared boxing ring at the Rail Event Center in Salt Lake City in Utah on Friday, the 2012 presidential nominee Mitt Romney (68)appeared in red gown and shorts, throwing a punch in the air. Taking off his gown, he showed his naked upper body and sparred at his counterpart who is a five-time heavyweight boxing champion, Evander Holyfield (aged 53). The event was a charity boxing match for the visually impaired.
Having appeared imposingly with the song "I will survive" in the background, Romney showed off his firm muscles and nimble footwork for his age, electrifying the spectators. He tried occasional jabbings and right crosses. Holyfield, on the other hand, performed some "Hollywood actions" of collapsing down by Romney's light punch. The match was expected to be a close game but the former presidential candidate's footwork became drastically heavier in the second round. Soon, he was saved by his wife throwing the white towel and the match ended in half-excitement.
"The good news is that Evander Holyfield always hits above the belt, and sometimes in politics that isn`t the way things are done," Romney made a joke after the match. The charity raised some 1 million U.S. dollars from the charity boxing match, all of which is to be spent for eye operations of the visually impaired in developing countries.
An unusual event made by the almost 70-year-old former presidential candidate was favorably responded by American citizens. Such an event is hardly seen in Washington's political community where sharp conflicts between Republicans and Democrats often dysfunction the political system. "It was even better than the long-awaited match of the century between Pacquiao and Mayweather, which ended in disappointment" said a post in Washington Post's website. "It's been a long time to be impressed by a politician."
ddr@donga.com