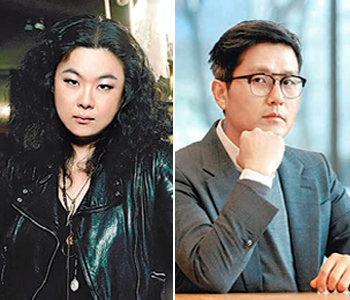 "These smart phones look sophisticated and pretty."
This is a usual response from general consumers who first encounter the Galaxy S6 and Galaxy S6 Edge of Samsung Electronics. Some even say, "I want to throw away the Galaxy S5 that I'm currently using." If so, what would be the response from designers whose profession is to create beautiful design? The Dong-A Ilbo asked this question to designers, who co-hosted "First Look of Galaxy S6" at the 2015 S/S Seoul Fashion Week along with Samsung Electronics.
Designer Lee Ju-yeong who created a stage with the theme of "color blocking black" said, "To liken the Galaxy S6 to outfit, high-class fabric has been used to make the outfit." It means that the materials have made great difference in the design. "Though Korean devices boast great functionalities, they are thought to fall behind in their design. The Galaxy S6 and S6 edge smartphones have completely dispelled such a preconception."
Featuring the stage with the theme of "simple but sophisticated white," designer Han Sang-hyeok said, "I felt like the Galaxy S6 is a well-made metal device, which I haven't felt with the one made with plastic," adding, "It has the beauty that crystal boasts."
The both designers gave highly favorable review on camera function of the phone. "Camera function of a smart phone is very important index when designers are choosing their phones. The Galaxy S6's camera expresses exact color of fabric," said Han. Giving rave review, Lee also noted that the Galaxy S6 and S6 edge smartphones set out great detail and evaluated the display of the phone by saying, "It provides a lot more vibrant and pleasant feelings." Lee chose the black-colored Galaxy S6 while Han picked white one as the prettiest model, which corresponds to each designer's theme color of the show.
teaho@donga.com