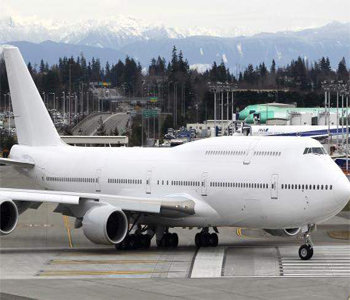 The United States has picked the next Air Force One, which is called the "White House in the sky." The U.S. Air Force said Wednesday that it has chosen Boeing`s 747-8 (photo) to replace the current fleet of the Air Force One presidential aircraft based on the Boeing 747-200.
Currently, U.S. President Barack Obama has two aircrafts in his Air Force One fleet. Both are militarily modified versions of the Boeing 747-200. The U.S. Air Force calls it "VC-25." Since the current ones entered service as the presidential aircrafts in 1990, they have been modified several times while serving U.S. presidents.
"Parts obsolescence, diminishing manufacturing sources and increased down times for maintenance are existing challenges that will increase until a new aircraft is fielded," the U.S. Air Force said.
The 747-8 model has been considered fit for the presidential aircraft, as it has four engines and a wide fuselage. A fleet of three new Air Force One jets is scheduled for delivery after 2018, leaving Obama with no opportunity to use them. The new ones are likely to have equipment and interior facilities, including an office and a meeting room, built with totally new technology.
Boeing, the supplier of U.S. presidential aircrafts since 1962, has won the contract without any competitors such as Europe's Airbus. The U.S. aircraft manufacturer has produced the 747-8 since 2005 but is said to have performed poorly in sales due to competition from the Airbus A380.