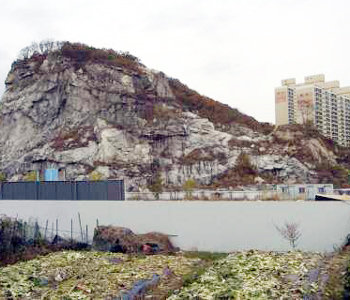 Songdo rocky mountain in Incheon, where "My love from the star," a popular TV series, was filmed last year, has been developed into a tourism product. The Incheon Development and Tourism Corporation (IDTC) said on Sunday that it introduced the place as a tourist destination as an increasing number of Chinese people are visiting the rocky mountain thanks to the huge popularity of the TV series in China.
The two days and one night tour program that departs from Seoul Station every Saturday provides opportunities to visit Songdo rocky mountain along with Incheon Chinatown, where abundant remains of Korea's modern times are located, and Incheon's representative tour sites such as Wolmido, Soraepogu. For detailed information and reservation, visit www.ticketmonster.co.kr.
Songdo rocky mountain (measuring 139,000 square meters with 60 meters in height), located in the ramp of Incheon Bridge that connects Songdo International Business District with Incheon International Airport, used to be a quarry but has been left as "hideous place in the city" due to civil complaints about blasting noise.
The place, however, has been reborn as the most important backdrop in the drama where the male leading character Do Min-joon (starred by Kim Su-hyeon) saves the life of a heroin Cheon Song-i (starred by Jeon Ji-hyeon) not once but twice. The place is now dubbed as "Cliff from the Star" in the Internet. Sources from the Incheon tourism corporation said, "More than 40,000 Chinese tourists are expected to visit Songdo rocky mountain this year."