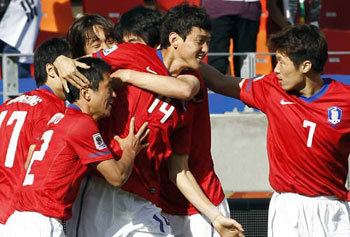 Men's Olympic soccer coach and former international Hong Myung-bo says, "In the past, entering the stadium alone made us nervous. All of the (Korean) players were frozen at their positions so we had nowhere to pass the ball."
KBS color commentator Cha Bum-kun, who starred in Germany's Bundesliga in the 1980s, said. "When I played at the World Cup, the locker room was silent ahead of a match. Since all the players were too nervous, we felt that talking to someone would cause him to easily lose his temper."
The mood of the national team remained this way until the 2006 World Cup in Germany, but has changed drastically this year. Before entering the stadium, players say something light such as, "Let's have some fun."
○ Audacious new generation players have no fear
The Taegeuk Warriors are standing tall following Saturday's decisive 2-0 win over Greece in their first Group B game at the South Africa World Cup. The Greeks were taller and bigger opponents from Europe, whom Korean players would have proven hopeless against in the past on foreign soil.
Instead, the Koreans looked highly confident when they appeared on the field and remained so even after kickoff. Greek striker Georgios Samaras said, "The Korean players were cheerful prior to the match but this was not the case for us. We lost confidence from this moment."
The success of the team lies in the "S-generation," or players born in or after 1985. They include Park Chu-young (25, AS Monaco), Lee Chung-yong (22, Bolton Wanders), Ki Sung-yueng (21, Celtic), Jung Sung-ryong (25, Seongnam Ilhwa), Lee Seung-yeoul (21, FC Seoul), Lee Bo-kyung (21, Oita), and Kang Min-soo (24, Suwon Samsung).
Park, who played the lone striker at the top in the match against Greece, did all the dirty work amid close coverage by Greek defenders. He headed the ball over taller backs, passed it to a teammate, and confused the Greek defense with his sharp penetration.
He had a team-high six shots at goal, including three on goal, to lead Korea's offense.
Lee Chung-yong and Ki also showed stellar performances. The Bolton midfielder dismantled the Greek's side defense with his fast feet and splendid dribble. Ki showed accurate passes and free kicks, living up to his reputation as a "prince" of the Huh Jung-moo-led team.
niceshin@donga.com