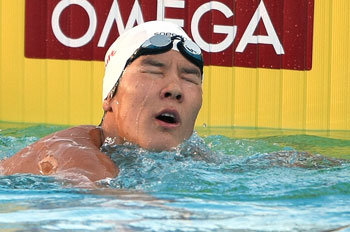 Questions are swirling around the disappointing performance of swimming sensation Park Tae-hwan in this year's world championships in Rome.
Despite earning Korea's first Olympic gold medal in the sport last year, the 20-year-old failed to advance to the finals of the men's 200-meter freestyle last Friday. He finished fifth in his group and 13th overall with a time of 1:46.68 at Foro Italico Complex.
This followed his shocking elimination from the 400-meter freestyle Saturday, an event that he had won in the 2007 world championships and last year's Beijing Olympics.
○ Mental anguish
In an interview with Yonhap News Agency after the 200-meter semifinal, Park said he experienced mental agony because of training with both the national team and his own training squad.
He said his biggest problem was having no personal coach, saying, "I originally intended to achieve a good performance in this competition, and then use that opportunity to make a suggestion. I feel very uncomfortable amid the controversy over me."
"Since I had no coach exclusively assigned to me, I chose to train in the U.S. to perform better. Training in the U.S. went well. I had big expectations for the championships, but it looks like I didn't have enough time. I wanted to show myself as constantly improving, but felt very mentally uncomfortable in all aspects. It's difficult to have a coach assigned exclusively to me. I feel sorry that many factions seem to exist in the swimming community."
Park added, "I felt twice as burdened this time than at the Beijing Olympics. I was uncomfortable due to massive public interest and expectations of me. It was very difficult for me since I had to endure the entire burden alone, unlike swimmers from other countries."
○ National versus exclusive training teams
After hearing of Park's comments, Jeong Il-cheong, managing director at the Korea Swimming Federation, said, "This is nonsense. While all other national team members trained at the training center, we allowed Park to train however he wanted after he formed an exclusive training team."
"When he returned to the national team because of a training slump, we let him back in without preconditions. Now that he is making such comments, we don't know what more we can do to help."
Certain swimmers were removed from the national team for training outside of the national training center ahead of the championships. As the country's top swimmer, however, Park was allowed to freely train with his own team without risking his membership.
Complaints have risen over why Park alone was allowed preferential treatment that enabled him to conduct activities unrelated to training, including filming a commercial, while training in the U.S.
He also arrived in Rome two days ahead of the national team. A swimming source said, "I hope this incident makes Park reflect on his own deeds rather than blaming others for his sluggish performance."
Park will compete in the 1,500-meter freestyle from 4 p.m. Saturday Korean Standard Time.
yjongk@donga.com