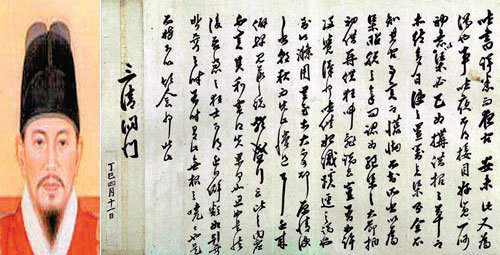 A bundle of letters written by King Jeongjo, the 22nd ruler of the Joseon Dynasty, shows he was well-versed in behind-the-scenes politics through letters, and that he was not fatally poisoned as widely believed.
The Academy of East Asian Studies at Sungkyunkwan University and the Institute for the Translation of Korean Classics yesterday announced in a news conference the discovery of letters sent by the king to state councilor Shim Hwan-ji. Shim was the head of Byeokpa, a rival faction to the king.
The bundle includes 299 handwritten letters by the king from Aug. 20, 1796 to June 15, 1800, 13 days before he died. They contain assessments of his servants, interest in public opinion, debates over personnel management, and confidential orders between the king and the state councilor. The private owner of the letters declined to be named.
The letters show Jeongjo's candid personality such as his sense of humor and private style of leadership. In one of them, he heavily criticized one of his servants for pursuing vain popularity among the people.
The king was also good at behind-the-scenes maneuvering via his letters as he sent one to his political rival to discuss urgent state issues in advance before council meetings. In particular, the long-held belief that he was poisoned to death was disproved, as the king disclosed his grave health condition to Shim through the letters.
"The letters show the king's private character, something which is hardly found in official documents, as well as his political maneuvering utilizing secret correspondence," said Ahn Dae-hoe, a professor of Korean literature through classical Chinese at the university.
Kim Mun-shik, a professor at Dankook University who participated in the project, said, "Jeongjo wrote several letters to Shim about his illness in the final years of his reign, and he wouldn't have said so if he didn't trust Shim. Given the contents of the letters, it is likely that he died from illness instead of poison."
Most of the contents in the letters do not appear in official historical documents such as the Annals of King Jeongjo or Seungjeongwon Ilgi, the Diary of the Office of Royal Secretaries, a detailed record of the daily events and official schedule of the court.
gold@donga.com