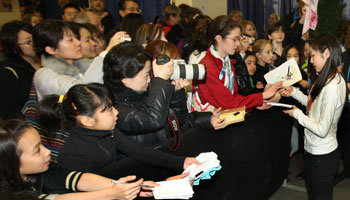 Many Koreans watched figure skating sensation Kim Yu-na win the Four Continents Figure Skating Championship, with the TNS Media quoting a national average viewership of 19.5 percent and AGB Nielsen 18.1 percent.
The average viewership of SBS TV reached nearly 20 percent, though Kim's performance was shown during the day. That figure soared to 28.7 percent according to Nielsen when Kim secured her victory, much higher than the usual share of seven to eight percent from 2 to 4 p.m. Saturday.
Kim's performances in the tournament ranked fourth (Nielsen) or fifth (TNS) of all programs aired by the three major TV networks that day.
○ 'Yu-na Fever'
The Korean public is following Kim's every move. The show that aired her performances posted record high ratings and commercials featuring her are seen everywhere.
Such commercials advertise different items including cars, electronic appliances, bakery, earrings, milk and tissue, and the products are selling like hotcakes.
Political parties have also caught "Yu-na fever."
Right after Kim's victory Saturday, former Grand National Party Chairwoman Park Geun-hye posted a comment in her personal blog saying, "Figure skater Kim Yu-na has given the people hope and courage," after uploading a picture of Park skating in school.
In an unusual move, the minor conservative Liberty Forward Party announced in a statement, "We congratulate Kim Yu-na on her victory, and her win is a great feat that has promoted Korea's unlimited potential and latent capacity."
○ A daughter to envy
Kim has taken a big lead in the competition against her chief rival, Mao Asada of Japan.
Kim lost to Asada at the Grand Prix Final held in Goyang, Gyeonggi Province, in December last year.
In Vancouver Friday, Kim fell while attempting triple Lutz in the free skating competition, but stood up immediately and continued her performance. Her quick recovery was seen as a symbol of hope for Korea, which is struggling with an economic crisis.
Kim's good looks and great singing skill are also fueling the craze over the skater.
Her transformation from a girl into a mature woman has captivated Koreans from all walks of life, men and women, young and old. Her charming smile has grabbed the attention of the country.
Kim spoke fluent English when interviewed by a Canadian media outlet following her victory. Koreans marveled at her ability to seamlessly express herself in English.
○ Rise to the Top
Kim is different from other stars who were created by the media. She rose to the top using her skills after overcoming numerous obstacles and hardship.
Sports psychology professor Kim Byeong-joon of Inha University said, "Kim Yu-na has become the best in the world in an official event that is objectively certified. People feel more proud and are more enthusiastic about her because she has changed the landscape of figure staking, which was widely considered a sport for Westerners, as a Korean feast."
Kim is meticulous in her self-discipline. Considering skill development to be her top priority, she trains in Canada to maintain focus.
Her management agency, IB Sports, is also implementing a mid- to long-term project, including one utilizing English education, to make Kim a national hero rather than a short-lived star.
Korea's leading conglomerates have also joined the Kim bandwagon. Kookmin Bank, Hyundai Motor and Nike plan on signing her to lucrative endorsement contracts.
Existing Kim sponsors Samsung Hauzen, LG Household and Health Care, and Maeil Dairy chose her over entertainers to star in commercials.
Kim's fees for appearing in commercials range between 700 million won (506,000 U.S. dollars) to one billion won (723,000 dollars) per commercial per year. Her latest victory could further push up those figures.
yjongk@donga.com