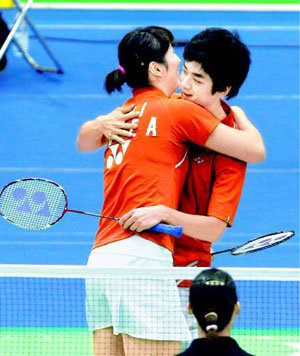 Lee Yong-dae yesterday used his powerful smash timed as fast as 300 kilometers per hour.
His doubles partner Lee Hyo-jung, who at 181 centimeters is one centimeter taller than Yong-dae, continued to score points through clever hairpins that narrowly scaled the net.
The team was all smiles after winning the mixed doubles title for the second year in a row of the Yonex Korea Open Super Series badminton tournament at the Seoul Olympic Gymnasium II.
The two Lees, who won the gold medal in the Beijing Olympics and rank third in the world rankings, crushed 10th-ranked Songphon Anugritayawon and Kunchala Voravichitchaikul of Thailand team in straight sets 21-8 and 21-7 in just 23 minutes.
The Korean team of Kim Dong-moon and Na Kyung-min secured the gold in the tournament for six consecutive years from 1999 to 2004.
Lee Yong-dae said, "I felt burdened because I wanted to defend our title on our home turf. Our win was thanks to Hyo-jung's stellar performance."
His partner said, "I feel great because my mother, who rarely comes to matches, came up from Busan. I will participate in the 2012 London Olympics with Yong-dae."
The first set saw a tight match at 12-8 but the Korean team scored nine straight points to win, and stepped up its offensive in the second set to secure the win.
In the women's double final, however, the Korean team of Lee Hyo-jung and Lee Kyung-won had to settle for second place, losing to Chien Yu-chin and Cheng Wen-hsing of Taiwan in straight sets, 21-19 and 21-8.
kjs0123@donga.com