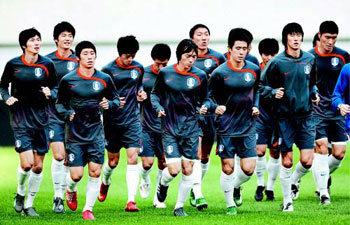 "We will get three points for a win."
National soccer coach Huh Jung-moo yesterday expressed determination to beat the United Arab Emirates in tonight's Asian World Cup qualifier in Seoul.
At Seoul World Cup Stadium, the two teams will face off in the final Asian qualifying round for the 2010 World Cup.
In the opening game of the round, South Korea drew with North Korea, 1-1. To qualify for South Africa, a win against the UAE is crucial given that South Korea will face powerhouses Iran and Saudi Arabia in the next two qualifiers.
Switching to the 4-4-2 formation, Huh's team routed Uzbekistan 3-0 in a friendly match Saturday. He had used the 4-3-3 formation to post an unbeaten streak spanning 12 games (six wins, six draws), but suffered criticism for poor game management and scoring.
Against the UAE, Jeong Shung-hoon (Busan I'Park) and Shin Young-rok (Suwon Samsung), who shone in the friendly, are expected to lead the team.
Midfielders Park Ji-sung (Manchester United) and FC Seoul's Lee Chung-yong, Ki Sung-yueng and Kim Chi-woo will man center, with Kim to serve as a set piece striker.
The UAE is known for counterattacking, so Huh has strengthened his four-man defense of Kim Dong-jin (Zenit St. Petersburg), Kang Min-soo (Jeonbuk), Kwak Tae-hwi (Chunnam) and Lee Young-pyo (Borussia Dortmund).
Huh told a news conference yesterday at Seoul World Cup Stadium, "All players have excellent skills and a strong sense of responsibility."
Six players are age 23 or younger and led the team with vigor against Uzbekistan. They include goalkeeper Jung Sung-ryong (Seongnam Ilhwa); Ki; Lee Chung-yong; Lee Keun-ho (FC Daegu); Shin; and Seo Dong-hyeon (Suwon Samsung).
Lee Keun-ho scored two goals in the second half against the Uzbeks and Ki scored a goal in the draw with North Korea.
Jeong, Kim Hyeung-bum (Jeonbuk) and Song Jung-hyun (Chunnam), who made their international debuts against Uzbekistan, are expected to play expanded roles against the UAE.
Veterans such as Park, Lee Young-pyo and Kim Dong-jin are also expected to do their part. Park, who is team captain, said, "When players feel burdened, their muscles will get taut. So I will try to make an atmosphere in and outside of the pitch where they can play comfortably."
creating@donga.com