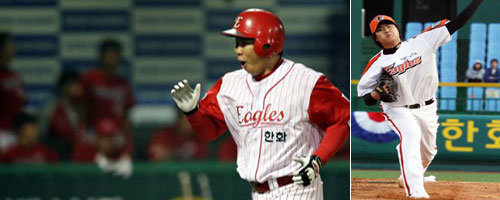 In the world of sports, sometimes underdogs triumph over great teams. The real beauty of sports is that nothing is over "until the fat lady sings."
Fans of Hanwha are looking forward to a dramatic victory at Daejeon on October 17. Two games behind in their best-of-5 series, Hanwha looks to make full use of their home-field advantage by ousting Doosan in Game 3. In order to survive elimination, Hanwha must pull out all the stops for every following game.
Hanwha can only advance to the next round if they win three consecutive games. In the 19 years of Korean baseball playoff history, there has been only one instance when a team made a comeback after two consecutive losses.
In 1996, Hyundai, coached by Kim Jae-bak (now coach of LG), triumphed over Ssangbangwool, coached by Kim Seong-geun (now coach of SK), won three consecutive games after trailing two games to none. Of course by the time they faced their next opponent, Haitai, they ran out of steam and lost four games to two.
After 1999, there have been other miraculous come from behind efforts as well. In a 7-game playoff series involving the No. 2 seed of the Dream League, Lotte was down two games to top seeded Samsung of the Magic League. But after splitting the following two games and winning three straight games, Lotte made a dramatic entrance to the Korean Series. Back then, Lotte boasted the talents of pitchers Sohn Min-han, Park Seok-jin, and Ju Hyeong-gwang, and batters Ma Hae-yeong, Jose, and Park Jeong-tae.
Hanwha, of course, is a different team compared with the two mentioned above. During pre-playoff games against Samsung, ace pitcher Ryu Hyeon-jin started in the first round. In the 3rd round, when Hanwha started Ryu as a set-up man, the team's weaknesses began to show. Another problem for Hanwha was that their key sluggers Cruz, Kim Tae-gyun, and Lee Bum-ho have not performed up to expectations.
Hanwha intends to go full throttle for Game 3, with Ryu Hyeon-jin back as its starting pitcher. Coach Kim In-shik declared, "Never again" for Game 3. Coach Kim plans to turn up Hanwha's offense a notch by fully utilizing Cedrick Bowers, Moon Dong-hwan, Gu Dae-seong, and other backup pitchers.
A good lineup is key to Hanwha's chances. Fortunately for them, their clutch hitters seem to be heating up.
In Game 1, they collected 6 hits and were held scoreless. But in Game 2 they recorded 13 hits and five runs. Kim Min-jae, Han Sang-hoon, and Lee Yeong-woo rose to the occasion and performed outstandingly as well.
In this post season, teams that scored first in games have won. It is now make or break time for Hanwha as they are about to put their offensive prowess to the test.
beetlez@donga.com creating@donga.com