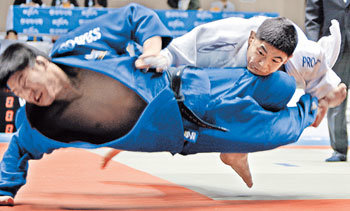 "The Tank," 27-year-old Hwang Hee-tae, won his second gold in the 2005 KRA Cup Korea Open international judo competition sponsored by Dong-A Ilbo.
Hwang won by full point in the men's 90kg division final held at Halla Gymnasium on Friday, defeating Choi Cheon (20, Korea National Sports University) with a scoop throw.
Hwang got on the mat with his back, knee, fingers, and ankle all taped up. He limped around momentarily after he attempted a move that bent his knees and worsened a prior injury. But he suddenly made a lightening push that left his opponent breathless.
He humorously explained later: "If any judo athlete says his or her back is fine, that would be a lie. You've got to have some injuries to focus better and get better results."
He joined the armed forces last December 13 and made corporal this month.
Hwang surprise observers with his win in the 2003 Osaka World Championships, and became the poster boy of Korean judo. But he failed to add more wins in the 2004 Olympics in Athens and this year's Cairo World Championships.
Hwang says he regained confidence through winning in this competition. "My next goal is the next year's Doha Asia Competition and the 2008 Beijing Olympics," Hwang said.
"Since my shoulder throw has been exposed too many times, I am trying to come up with another throw skill that doesn't require me to stand close."
The gold in the Women's 52kg division final went to Kim Gyeong-ok (22, Yong-in University) where Kim defeated Huh Hong Mei of China with a strangle hold.
The men's 81kg division's Song Dae-nam (Namyangju City), the 90kg division's Choi Cheon (KNSU), the 100kg division's Yoo Gwang-seon (Yeosu City), the 100kg and up division's Park Jun-hyun (Daegu City), and the women's 48kg division's Yi Seon-ah (KNSU) won silver medals.
Jang Seong-ho (KRA), a silver medalist at the 2004 Athens Olympics, was defeated in the second round of the men's 100kg division by Japan's Ishii Satoshi. But he won the bronze medal in the consolation match.
Jae-Yun Jung jaeyuna@donga.com