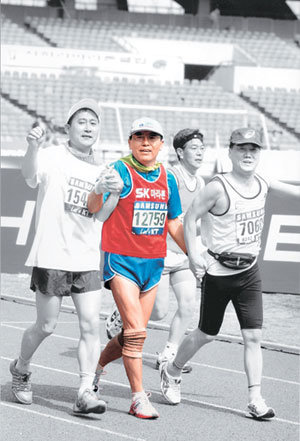 On September 23, some 1,000 employees from SK Corporation will begin a relay run of the 500km stretch between Seoul and SK's Ulsan plant. This is the second year for the conglomerate's "Transnational Relay Run," proposed by SK president Shin Heon-cheol for the first time in 2004.
"We hope that our running becomes a virus of happiness spreading throughout society," he said.
President Shin is now renowned as a CEO who runs marathons. But back in 1998, when his knee suddenly began to hurt, Shin was not even able to walk the full 18 holes of a golf course without using his putter as a cane to lean on.
The marathon was what saved him.
"I tried every kind of medication that was supposed to be good for arthritis pain, to no avail. But amazingly, the pain just disappeared after I started running the marathon at the suggestion of some friends."
Since then, Shin has become so immersed in the world of the marathon that he has run eight full-course races since 2001. His personal record is four hours, three minutes, and 42 seconds, set on March 13 at this year's Seoul International Marathon.
However, Shin wasn't content with just running for himself. He began to ponder how to contribute to society through his love of the marathon, and decided to raise funds by getting others to sponsor his runs.
He received endorsements from friends and acquaintances, and even contributed his own money. At this year's Seoul International Marathon, a massive contingent from SK ran alongside him while the company itself put up a "matching fund," allowing him to raise over 108 million won in donations. The 30 or so community service clubs within SK delivered this money to their various charities.
The transnational relay was also Shin's idea.
"There's nothing better than running for bringing about unity among the staff and contributing to society," he noted, adding, "This year, we'll donate the money we raise to the Dokdo guard to convey the SK family's love for our country."
On Friday afternoon, Shin and members of the SK staff will begin their long trek of the 500km road from the southern end of Seoul's Banpo Bridge through the SK Institute of Technology in Daejeon to the company's Ulsan plant.
Jae-Yun Jung jaeyuna@donga.com