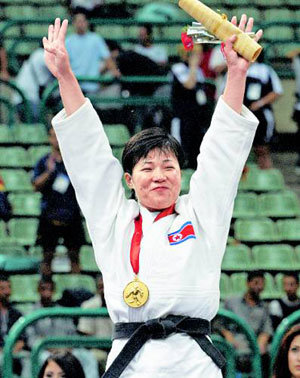 The scene was the final match in the 57kg category of the 2005 World Judo Championship held on September 11 at Cairo Stadium in Egypt.
Kye Soon Hee (26), North Korea's "Judo Heroine," attempted an inner thigh throw against Yvonne Bönisch (Germany) within less than 20 seconds of the start of the match. For a moment, Bönisch was up in the air. The next moment she was on the mattress.
Realizing that she has won the world championship for the third time, Kye buried her face in her hands and burst into tears.
Kye was not the only one who burst into tears. Officials and other players on the North Korean Judo team were overwhelmed by her victory and cried. The about 50-strong North Korean cheerleading squad seated near the main office roared, "Kye Soon Hee! We are proud of you!"
The secretary of the North Korean Judo Association Park Hak Yong, the secretary general of the East-Asia Judo Federation Moon Won-bae, secretary general of the Judo Union of Asia (JUA) Jo Yong-cheol and others came to Kye Soon Hee, patted her on the back and congratulated her on her victory, saying, "We are proud of you." Kye shed tears, repeating the words, "thank you."
Kye once again proved herself to be a true judo heroine by winning her third world championship after winning the 2001 Munich and 2003 Osaka Championship. She is the first competitor to capture the title of world champion for three consecutive years for both men and women in North and South Korean judo history.
Bönisch is Kye's rival who defeated Kye in the 2004 Athens Olympic Games to win the gold medal.
On the subject of North and South Korea sending a single delegation to the 2006 Asian Games, Kye said, "I hope that they unite and win more medals."
Jae-Yun Jung jaeyuna@donga.com