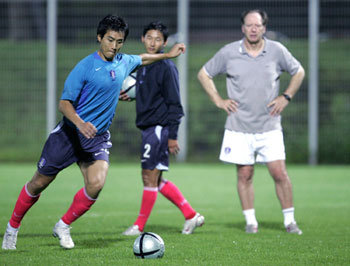 "Some players are losing their touch. Unless they recover their skills, it would be difficult for them to go to Germany," said the coach of Korean national soccer team, Jo Bonfrere.
"A coach is looking for a player who can play as a team the way he wants. Players such as Lee Dong-guk and Lee Chun-soo are at risk," said Kang Shin-woo, the vice-chairman of the Technical Committee at the Korea Football Association (KFA).
The national Korean soccer team under Bonfrere is transforming itself, after facing a crisis after a series of disappointing matches. Bonfrere is raising the competition for each position by testing young players, breaking away from the practice of appointing players whose brand value is relatively high.
In particular, Lee Dong-guk (26, Pohang Steelers), and Lee Chun-soo (24, Ulsan Hyundai), the scions of Bonfrere's team, are in the middle of a "whirlwind of competition."
Bonfrere deleted the above two players from the list of starting players for a match against North Korea in the inter-Korean unification soccer match held on August 14. Instead, Bonfrere experimented with a new position configuration by deploying Kim Jin-yong as one top, and Park Ju-young and Chung Kyung-ho as left and right wings, which proved successful. Bonfrere noted that his experiments will go on even in the last Korea's regional qualification match against Saudi Arabia for the World Cup 2006 to be held on August 17.
The team's "fixed key player" Lee Dong-guk has never scored a goal despite many goal opportunities in the East Asian Football Championship (EAFC) 2005. In particular, Lee has faced accusations that he only makes plays while not challenging defense players to secure a space. Lee, seemingly motivated, seemed to try to show active movement by penetrating the opposing side after being switched into the game at the 22-minute point of the second half in the match against North Korea.
Lee Chun-soo looks more serious. Though Lee is gnashing his teeth, returning to Korea after two years of poor performance in the Primera Liga, Lee's physical strength, mentality, and desire are not keeping up. Bonfrere deployed Lee at the 34-minute point of the last half in order to give a chance in the match against North Korea but Lee failed to show impressive movements.
Vice-chairman Kang Shin-woo, said, "Bonfrere deployed Lee Chun-soo in the three matches of the EAFC to give him a chance to make opportunities by himself because Lee hasn't played many games," and added that he was worried about Lee for the decrease in his physical strength, and mentality.
"Fixed goalkeeper" Lee Woon-jae (32, Suwon Samsung Bluewings) was also forced to compete against his junior players. Lee recently gained five kilograms and it has been pointed out that his movements are not as sharp as they use to be. Kim Young-gwang (22. Jeonnam Dragons), on the other hand, has played starting goalkeeper in a match against North Korea and appeared remarkably more stable, which made Lee further disturbed.
It seems, ultimately, that the match against Saudi Arabia on August 17 will become a watershed of restoring their honor, or of being denied seats to Germany, to not only a coach but also to key players at stake.
Meanwhile, the Korean national soccer team that was training in the National Football Center (NFC) in Paju on August 15, in preparation for Saudi Arabia, changed its quarters and training location to the Grand Hilton Hotel in Seoul and Seoul World Cup Stadium, due to the sudden breakdown of a transformer.
Jae-Yun Jung jaeyuna@donga.com