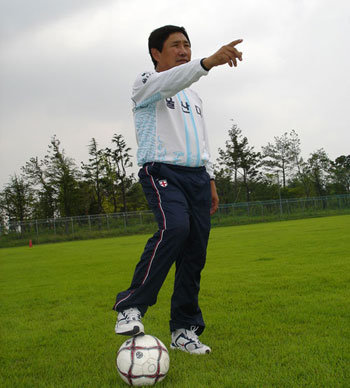 There is no North Korea or South Korea when it comes to soccer. Moon Ki-nam (57), the soccer coach of the University of Ulsan, is still so preoccupied with soccer. On January 30 last year, he left North Korea with his wife, two sons and two daughters for Seoul. In February of this year, he became the coach at the University of Ulsan. I met him on the university's campus on July 14. It was a scorching day.
"Wherever you go, playing soccer is not much different. Still I shout to my players, 'Connect with him, connect (literal translation of North Korea's soccer term for 'pass').' The next moment I correct, 'Pass the ball, pass.' Or I say the word 'shoot' and then 'kick the ball into the goal (literal translation of another North Korean soccer term for 'shoot')'…. Sometimes I find it hard to understand words with a heavy local accent (laughs)."
Moon, a former star player, was on the North Korean team from 1969 to 1976 as a center forward. He is not tall (173 cm), but he is fast. He can run 100m in 11.7 seconds and disrupt the defense of his opposing team. In the 1991 World Youth Championship in Portugal, he was the North Korean coach of the North-South Korea unified team. Under his leadership, the team reached the quarterfinals. The Asian Cup 2000 was his last game as the national team coach.
"Park Ji-seong is a superb player. He is so flexible that he can instantly shift his position to pass the ball just right in front of his team members. He is good at anticipating what will come next in the game. As a player, I admired Pele. Now my favorite is Park Ji-seong."
Moon likes reading when he can spare some time. He reads great novels of famous Korean and foreign writers such as Lee Gwang-su, Kim Yoo-jeong, Dostoevskii, Tolstoi and Victor-Marie Hugo. Their works always grab his interest, and lately Moon read "Taebaeksanmaek" by Cho Jeong-rae and "Toji" by Park Gyeong-lee with much interest.
Moon is a "goose father." Lee Chang-sil (55), his wife, and children live in Seoul. Moon occasionally visits his family in Seoul and goes to church with his wife on Sundays.
"Sometimes my wife lectures me and says, 'In South Korea, men are henpecked by women.' She didn't used to be that way in the North. And I yell at her, 'It hasn't been long since we left the North.' To be honest, I was so into soccer that I wasn't a good husband or father to my family. I have nothing to complain of."
Moon says it is frustrating to see the North Korean national team still falling short of expectations. In the last World Cup preliminary match with Japan, they did not know how to play the game and looked tired and weak toward the end of the game. He is very regretful that the North is not able to properly support young players due to its economic constraints. He wishes that both the North and the South could go to the German World Cup next year.
Hwa-Sung Kim mars@donga.com