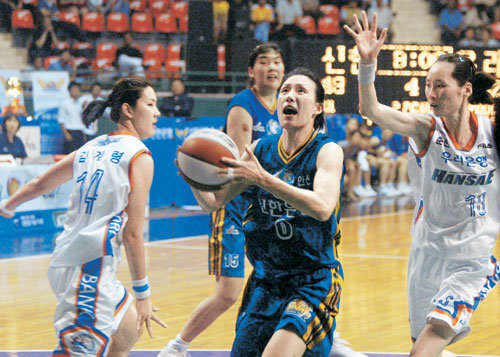 "I am a women's basketball box-office success."
Returned "Housewife Star" Jeon Joo-won (33, Shinhan Bank) was flying high.
In the opening game of the 2005 Shinhan Bank Women's Professional Basketball Summer League on July 7 at Jangchung Gymnasium, between Shinhan Bank and Woori Bank, Jeon scored 24 points, the most of both teams, and had nine assists and three rebounds. Putting on a great show, she led her team to a 68-65 victory.
The comeback game victory for Jeon was more meaningful in that it was the first game for the team that she belatedly joined since 2005 Winter League, which also became the sponsor for this summer league. By coincidence, it also happened to be the 23rd anniversary of Shinhan Bank.
Jeon, who put the Korean women's team into the 2000 Sydney Olympics semi-finals and received calls from the WNBA, temporarily left the game during the Asian Women's Basketball Championship held in Sendai, Japan, in January last year, when she found out that she was pregnant.
Although she returned to the basketball court after a year and half, her skills did not seem rusty at all.
Shinhan, who had lost all four previous encounters against Woori, played comfortably thanks to Jeon's good offensive tempo, while last winter league's champions Woori looked lost.
It was a tight seesaw game but with three seconds left in the second quarter, Shinhan was trailing by 11 points, 26-27, with defeat looming ahead. However, Jeon's three-pointer reduced the gap to eight points. With that, Shinhan players Gent (14 points 16 rebounds) and Kang Ji-suk (14 points) started to gain momentum.
With six minutes and 41 seconds left in the fourth quarter, Jeon's free throw and drive tied the score 56-56 for the first time in the second half of the game. Three minutes later, with three minutes and 49 seconds left, Jeon's three pointer and a shot from Kang made the score 63-60 and put them at the steps of victory.
"I wanted to play a supporting role but I got carried away," said Jeon on her comeback game victory, "Although I have to be away from my 10 month daughter Chung Soo-bin, I am really enjoying just being able to play again."
Chang Jeon jeon@donga.com