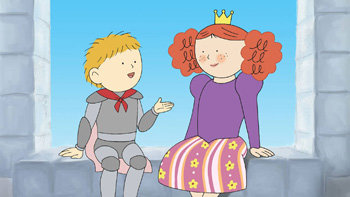 #Scene 1: "I" was looking at a family photo and discovered ones with and without me in them. Suddenly, I thought, "Where did I come from and how?" and asked my friends at the playground. But there were only guesses like "the sperm has wings and flies to the egg," "the egg throws a rope and the sperm climbs up it." Finally "I" decided to ask mom and dad and headed home. Mom told me, "A woman and a man snuggles together and lay down to make children like you." (Part 1 "I")
#Scene 2: Nari became secretive. A man told Nari, "If you reveal the secret, the police will come and take Nari away, and mommy and daddy won't like Nari anymore." One day at art period, Nari drew a hideous man's face without knowing it and ran out to the playground crying. The teacher heard Nari's story and said "That's not your fault. The police won't come, and your parents will still love Nari." (Part 3 "Not Your Fault")
"Sex." Children are wildly curious, but parents do not give clear answers and are reluctant to have them learn about it.
In commemoration of EBS's fifth anniversary, a special sex education program called "Sex in Children's Lives" (June 22∼24 5:35 p.m.) unravels "sex talk," avoiding the factual lectures through fun and easy animations. The production took a year and five months, with a budget of approximately 600 million won.
Producer-director Nam Han-gil said, "The program was created to escape from the biology-textbook learning method and convey healthy morals on sex in an easy and fun way."
Produced in three parts, the program expressed three different topics in diverse forms of cartoons. The "I" episode in part one (June 22) teaches the differences between male and female body parts and how babies are made in 3D animations, through the eyes of the "I" character. The appearance of the "3D sperm" combining with the "egg" through a journey was particularly dimensional in its vividness.
"Like? Like!" (June 23) of part two contains episodes that reflect on the sexual roles of men and women, through the stories of a prince who was more interested in cooking than in fighting, and a princess belittled for being unladylike, set in the medieval times.
Based on the novel "La Petite Fille Qui Ne Souriait Plus (The Little Girl Who No Longer Smiles)" by Canadian writer Gilles Tibo, the "Not Your Fault" (June 24) episode from the three parts deals with child sexual abuse. With the black-haired heroine "Nari," the episode strives to let both parents and children know that sexual violence is a substantial threat to the lives of children, a serious problem that could happen to anyone.
bsism@donga.com