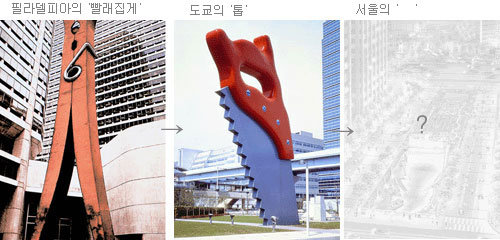 Seoul city has decided to install a sculpture by world-renowned American pop artist Claes Oldenburg (76) at the entrance of the city plaza at Cheonggyecheon, synchronizing with the completion of the Cheonggyecheon renovation in October. There is increasing anticipation that a new Seoul attraction will be created.
Ha Jong-hyun, curator of the Seoul Museum of Art, who received Seoul city's request to inspect the sculpture, said, "I examined domestic and foreign artists who are not limited to the Cheonggyecheon, but who fit in with Seoul's urban image in the international world." Jong-hyun revealed that "The conclusion was that Oldenburg's works are familiar to the public, are known worldwide, and blend in with sophisticated urban aesthetics."
Seoul city administrative executive Yang Yoon-jae remarked at the city council convention on March 17, "Oldenburg is expected to show his blueprints by June. If open information and a transparent business progression are needed, we are willing to survey citizens on whether the artist's work is good or not."
Oldenburg is known for his shocking sculptures, which create enormous memorials in the shape of everyday objects. The artist designed the towering saw in front of the world trade exhibition in Tokyo, Japan, and the gigantic clothespin that looms in front of the city hall in Philadelphia, U.S. Oldenburg has also created statues that resemble lipsticks, umbrellas, and other objects.
An American immigrant born in Sweden, Oldenburg is called an 'artist who makes objects,' rather than a painter or a sculptor. He expresses his cynicism and amusement with mass culture by playfully reinventing common objects, such as a blown-up hamburger made of plaster, ice cream made of fur, and a lofty cigarette butt made of steel and lead.
He not only disproportionately amplifies an object, but also frequently transforms the properties of the material altogether. Critics give reviews for his delightful surreal keyboards, toilets, and pay phones, which are usually solid but molded from soft materials such as fur or fabric. His pieces are so popular that they are still being displayed simultaneously in mainstream art museums in New York.
Meanwhile, Korean People Artists Federation, among several culture and arts-related communities, are demanding the public disclosure of the selection process and the standard for choosing Oldenburg's piece, as well as strengthened transparency and fairness in the sculpting development business. They point out that "Oldenburg's works are not in harmony with the historical, environmental, and cultural symbolism of Cheonggyecheon's renovation."
Mun-Myung Huh angelhuh@donga.com