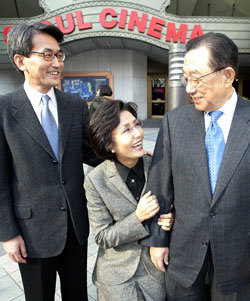 A Theater Church Service?-
Former movie actress Goh Eun-a (real name: Lee Kyung-hee• Hapdong Film Co., Ltd. Seoul Cinema Representative) is more buoyant than ever with the anticipation of a new theater church service this Christmas. Husband Gwak Jung-hwan (Hapdong Film Co., Ltd. Seoul Cinema President) and brother Reverend Lee Jae-chul, too, are brimming with joy.
We met with the trio at the Seoul Cinema in Jongno 3-ga, Jongno-gu on December 22. Goh explained, "Our family agreed to hold a church service every last Thursday of each month at 9 p.m. at our theater," and expressed her wish for "many people to come, listen to music, and be inspired by the Lord's words."
The first church service opens on January 27 at 9 p.m. in the roomiest theater, number two (902 seats), of the 11 Seoul Cinema theaters. The talented Nutripops Orchestra is expected to perform 30 minutes of movie soundtracks, popular songs, and hymns, after which Reverend Lee will preach for an hour. Everyone is invited to participate in the service for free. Seoul Cinema has agreed to cancel two screenings after 8 p.m. for the usually 40-to-50 percent-filled theater (number two) on "theater service" days.
The church communities these days are buzzing with the eccentric trio's non-profitable, indeed, financially draining, theater services. Goh was all the rage in the 1960s film industry days, and Gwak was one of the movie production and theater business moguls. Reverend Lee, who managed to scrape together 3,000 followers in 10 years without even a church building in Gangnam, Seoul and vanished without a trace, is already famous for his sermons in the church communities.
Goh confesses, "I was surprised when this old fellow (President Gwak) went to church one day and said he wanted to preach in a theater," and went on to say, "But when I quit missionary radio broadcasting 10 years ago, I resolved to do something new 10 years later, so I just jumped at the chance."
Gwak says, "I've been in the theater business for 25 years and the 'theater service' idea just hit me when I got to thinking that the theater could be used for preaching purposes," and tells us, "But I thought there could be side effects if a pastor who's supposed to worship at the church gets to preach, and that's where Reverend Lee comes in. I asked him for help." As an elder of the Seoul Jongro-gu Pyeongchang-dong Yeneung Church, Gwak claims that followers must serve their pastor with the utmost loyalty and proceeded to repetitively call his brother-in-law "Priest Lee."
Reverend Lee became the talk of the town when he left for Geneva, Switzerland in 1997 after acting as homeroom pastor at the "House of the Lord" and Seoul Jeongshin Girls' High School, only to return three years later. He continued to go to church as a layman after his return, teaching teenagers and focusing on giving paper sermons.
Reverend Lee says, "My sister and brother-in-law suggested a weekly 'theater service,' but we agreed that it was not feasible, so we agreed on monthly services." He also said, "When people buy expensive things, they read the instructions manual really closely, but they just don't try to know the bible enough, and that's almost like the Lord's 'life instructions manual,'" and added, "I want to preach the wisdom of life to youth who come to the theaters often."
The Goh couple gushed, "We're happy to return the glory to the Lord in a method nobody has ever thought of," and said, "If participation increases, we're planning on catching the service on tape and expanding 'screen services' live in other theaters."
Cha-Su Kim kimcs@donga.com