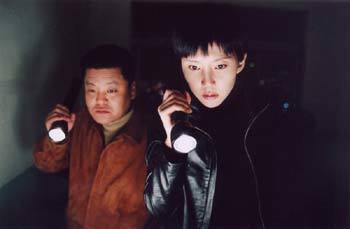 Seeing the deluge of comic movies in Korea, it is not easy to decide to try a different genre. `H,` a thriller movie directed by Lee Jong-hyok, bears significance in this regard.
The movie, however, shows at the same time how difficult it is to maintain suspense and tension throughout a thriller movie. There are too many holes the first part of the movie`s story, the audience sees no question to be answered and implications.
A young man with innocent looks enters a police office. He then throws a bag containing the body of his victim and turns himself in. He is Shin Hyon (Jo Seung-woo), a serial killer who murdered six people. Detective Han (Lee Eal), who once caught Shin only to release him later, is shocked by his confession and kills himself.
A year has passed. Young women who got pregnant through extramarital affairs are killed in cold-blood murders. Realizing that the victims were all killed in the same way that Shin did a year ago, detective Mi-yeon (Yeom Jung-ah) and Gang (Ji Jin-hee) visit Shin in prison looking for some clues.
The movie reminds the audience of a hit thriller `Silence of the Lamb` in that a serial killer in prison holds the key to investigation and has an influence on what`s going on out there, and that the detectives interact with the insane criminal to track down a vicious killer.
The problem is that their interaction lacks vitality. Shin speaks so uncharacteristically as if he were reading a book that the audience finds it hard to understand why there is a bunch of his followers out there. Yeom Jung-ah, with too much strain on her eyes, looks rather unfit for the role.
Dr. Chu (Kim Sun-gyung), a psychiatrist who appears out of sudden in the latter part, is supposed to play an important part, talking with Shin and relating to killers. Wearing a strange smile all the time, she fails to play her role as supposed. For age 18 or above, set for release on December 19.
Hee-Kyung Kim susanna@donga.com