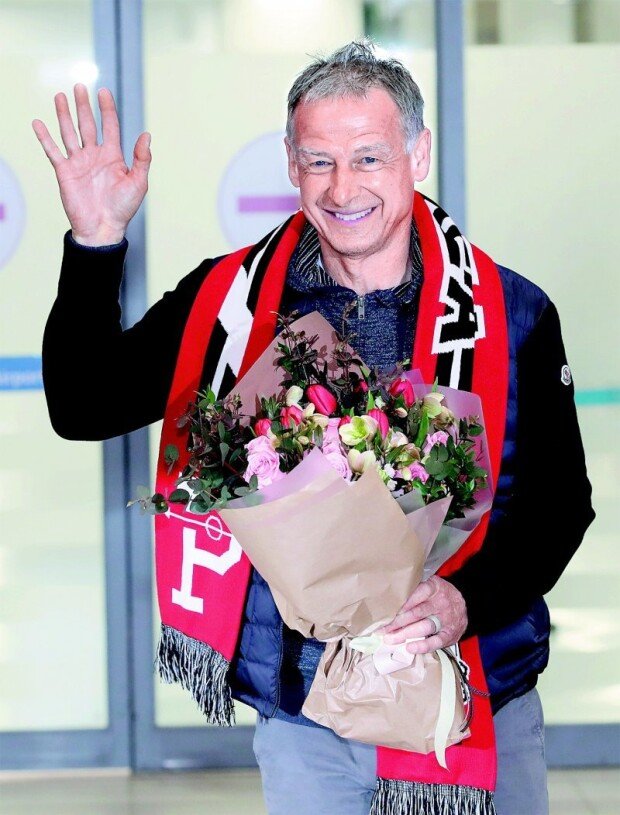 Jurgen Klinsmann arrived in South Korea on Wednesday to start his job as head coach of South Korea's national football team, after nine days since the Korea Football Association announced the appointment on Feb. 27.
"I am proud and honored to coach the South Korean national football team. I will do my best to keep a good record of the South Korean football team's work at the Qatar World Cup 2022," Klinsmann said. "I think the Korean team is very good. Our imminent goal is to win the Asian Cup." The AFC Men's Asian Cup will be staged in Doha, Qatar in January 2024.
Klinsmann mentioned Cha Du-ri, who oversees the Youth Enhancement Office of the K-League 1 Seoul. During the Qatar World Cup, Klinsmann worked with Cha as a member of the Technical Study Group of FIFA. Referring to Cha as "one of my coaches," Klinsmann said he had watched all the Korean team matches in the Qatar World Cup with Cha. An official of the Korea Football Association said that Klinsmann calls all his team members of the Technical Study Group "coaches," and that Klinsmann has not made any request to Cha about joining the national team as a coach.
Klinsmann will have a press conference at the National Football Center in Paju on Thursday. On March 12, he will visit the Seoul World Cup Stadium and watch the K-League 1 match between Seoul and Ulsan. He will announce the names of the national team members to play in the upcoming warm-up match with Columbia (March 24) and Uruguay (March 28) on March 13.
hun@donga.com