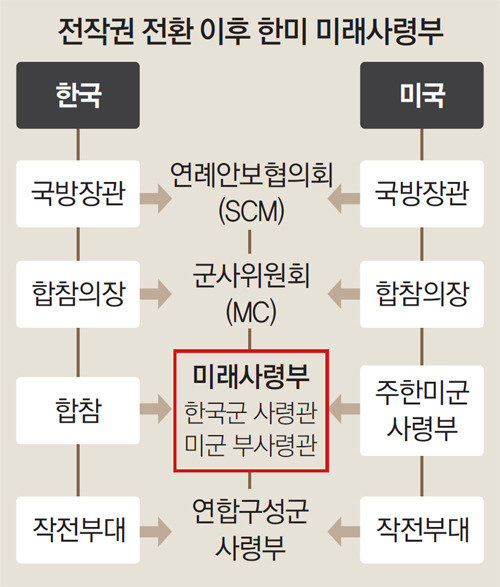 Formation of a new command authority is emerging as a main issue as an agreement was reached on early transfer of wartime operational control in Korea during the recent summit meeting between South Korean President Moon Jae-in and U.S. President Donald Trump.
During the annual Security Consultative Meeting in 2014, South Korea and the U.S. agreed to establish a Future Command (provisional), enabling the South Korean military to command U.S. forces once the wartime operational control is returned to South Korea, and the two countries have since been working to that end.
While the Future Command is similar to the current ROK-U.S. Combined Forces Command in form, under the new system, the post of commander goes to South Korean military, and that of deputy commander to the U.S. military. Currently, the commander of U.S. forces (army general) stationed in Korea is holding concurrent office as head of the ROK-U.S. Combined Forces and is entitled to exercising wartime operational control. The deputy commander of U.S. forces in Korea (army general) is assumed by a South Korean military official.
"If the Future Command is established after the transfer of wartime operational control, the U.S. forces will be under the command of a foreign military authority for the first time in history," said a military official. "As champion of Koreanization of national defense, the current administration will stick to this agreement."
However, experts point out the possibility that the stance of the Trump administration, which preaches "America First," might be misaligned with that of the Moon administration. They say that it is unlikely that President Trump will accept the deal and leave the U.S. forces, which boast the world's best military power, subjected to the commands and instructions of the South Korean military.
Against this backdrop, an outlook is proposed that the Trump administration will reverse the deal and disband the ROK-U.S. Combined Forces in Korea after transferring the wartime operational control to demand that South Korea and the U.S. should install separate command offices.
Sang-Ho Yun ysh1005@donga.com