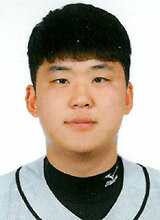 Pitcher Shin Min-hyeok (18) of Yatap High School achieved a no hit, no run game in the weekend league of Korean high school baseball.
Shin only pitched one dead ball during the nine innings to record a no hit, no run in a game against Yushin High School in the weekend league that took place at Icheon Baseball Park in Gyeonggi Province on Sunday. He threw 96 pitches in total and secured eight strikeouts. Shin has garnered a no hit, no run game in high school baseball for the first time in three years after Kim Min-woo (currently Hanwha Eagles) of Yongma High School in 2014.
Shin overwhelmed Yushin High School's batters except for an error in ball throwing to a baseman in the fourth inning, and one dead ball he pitched in the sixth inning, to let only two of Yushin's batters advance to the first base throughout the game. In his last inning in the bottom of the ninth inning, he garnered three consecutive strikeouts to complete the milestone. Yatap beat Yushin 2-0 on the day. The Korea Baseball Softball Association will present a special prize to Shin after the end of the weekend league for the first half of this year.
Heon-Jae Lee uni@donga.com