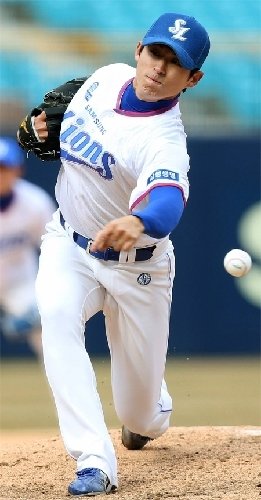 A rare type of pitcher has emerged in Korean professional baseball. The pitcher in question is Lim Hyeon-joon (28) of the Samsung Lions. He is a left-hander, but is a sidearm pitcher who throws pitches with pitching form close to being under handed. Lim was demoted to the Futures League (minor league) after facing off just a single batter, but he made the team's primary league roster in this season's opening game for the first time in six years.
Even before Lim, left-handed sidearm pitchers were literally very few. In the entire history of Korean pro baseball, only Kim Chang-hoon (31) of the Doosan Bears, and Choi Han-lim (45) who played for Samsung, left legacies in the mound of the primary league. Then why left-handed sidearm pitchers are so rare?
The biggest reason is that a sidearm pitcher easily falls a victim to the opposite handed batters. In the 2013-2015 pro baseball seasons, right-handed sidearm pitchers allowed an OPS (on-base plus slugging) of 0.745 to right-handed batters, but they had an OPS of 0.831 to left-handed batters, thus displaying relative weakness against the latter. Given the overall OPS, the reading is close to switching from Lee Seong-yeol (32) of the Hanwha Eagles to Chae Tae-in (34) of the Nexen Heroes.
By the same principle, a left-handed sidearm pitcher can be construed as being weak against right-handed batters. Kim Chang-hoon has shown outstanding performance, but his 2012 records demonstrate this. Back in 2012, left-handed batters posted a batting average of a meager 0.097 (three hits from 31 times at bat) against Kim Chang-hoon, but right-handed pitchers had almost double the figure to reach 0.176 (six hits from 34 times at bat).
As right-handed batters outnumber left-handed batters in baseball, left-handed sidearm pitchers pitch more often towards right-handed batters than right-handed sidearm pitchers countering left-handed batters. Against this backdrop, left-handed sidearm pitchers could be more disadvantageous than right-handed sidearm pitchers.
I often think that it would be okay if the number of left-handed sidearm pitchers increases. This is because the number of left-handed pitchers has increased significantly. Last year, left-handed batters accounted for 40.1 percent of all times at bat in Korean pro baseball, an all-time record high in 34-year pro baseball history. In 1982, the first year of pro baseball in Korea, the ratio stood only at 13.4 percent.
An increasing number of left-handers are attributable to "artificially crafted left-handed batters." More right-handed pitchers stand in the right-side box when batting. The number of such players amounted to 2.1 percent, 10 out of the 476 pro baseball players back in 1996, while it more than doubled to 21 (4.4 percent) in 2005 and the figure has reached 86 (14.0 percent) this year.
The ratio of pitches thrown by left-handed pitchers also changed in a similar pattern. The number of left-handed pitchers is always in short supply, since it is far more difficult to change the batting hand than switching the throwing hand. Under this circumstance, a team should revive and use left-handed pitchers it already has, while conversion into sidearm pitchers can be an alternative measure.
Unlike in Korea where no left-handed sidearm pitchers have been successful, such cases occur once in a while in Japan, such as Eizi Kiyokawa (55, coach for Seibu's second string team) who staged a 114 game winning streak.
Can we see a player who turns into a successful left-handed sidearm pitcher in Korea as well?
페이스북 fb.com/bigkini