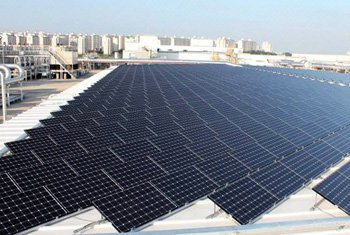 LG Electronics is investing 527.2 billion won (437.9 million U.S. dollars) to further push into the solar power business, its main next-generation growth engine.
LG signed a memorandum of understanding Wednesday with North Gyeongsang Province and Gumi City for investment in new solar panel production facilities at the North Gyeongsang Province Office. Following the contract, LG will expand the number of high efficient solar module production lines at its Gumi complex from eight to 14 until June 2018.
The completion of the production line will increase LG`s annual solar power module production to 1.8 gigawatts from 1 gigawatts. "We will pursue follow-up investments to expand our production capacity to 3 gigawatts by 2020," a source from LG Electronics said. Three gigawatts is equivalent to annual energy consumed by 1 million households.
LG also expects the latest investment to lead to more than 1,000 new employments in the R&D, administration and production fields.
"We have been able to strengthen groundwork for further leap into our solar energy business, which is LG Electronics` new future growth engine." said Lee Sang-bong, head of both B2B business division and energy business center at LG Electronics. "We will steadily release ultra-high efficient and premium products to lead the global solar power market."
In November 2014, LG Electronics set up an "energy business center" that oversees solar power, energy storage system, lighting and energy management solution, and has since strongly pushed into energy related businesses.
LG`s technology is highly assessed in the global market. Its solar power module "NeOn2" developed in June last year won an award at Intersolar Europe 2015, the world`s largest solar energy exhibition. In the solar power module market, technological power is determined by module efficiency, which refers to how much can be converted to electricity from the same area that receives the same amount of solar power. NeOn2`s module efficiency is 19.5 percent, the world`s highest.
"Differentiated technologies should be applied from the initial production stage to make a high-efficient solar power module," an LG Electronics source said. "Different from other companies that use production equipment of U.S. and German companies, LG Electronics design and make main production equipment independently, which means we have higher growth potential."
dong@donga.com