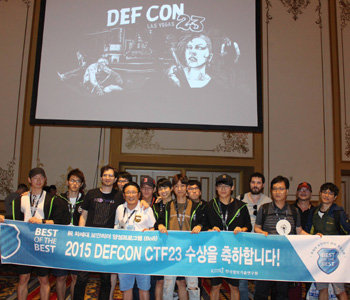 A hackers team comprised of Korea University students have clinched the top prize at "Hackers' World Cup," which draws attention from hackers around the world.
According to the Science, ICT and Future Planning Ministry on Monday, "DEFKOR," the team comprised of students from Korea University information security students' club and the security technology team from Korea-based IT security solution provider Raonsecure, won the top prize at the "DEFCON Capture the Flag (CTF) 23," which was held in Las Vegas, the U.S. for three days from Friday. DEFCON is the world's largest international hacking competition that marks the 23rd event this year, and is dubbed the Hackers' World Cup among hackers.
From Day 1, the Korean team received 20,136 points, almost double the score that the second-ranked Taiwanese team HITCON (12,802 points) acquired.
DEFKOR was formed primarily from students with the "Best of Best (BoB)" course, program designed to nurture next-generation computer security leaders that is run by the ministry. The program is an information security training program to produces 130 White Hackers a year as an initiative of the ministry.
fighter@donga.com