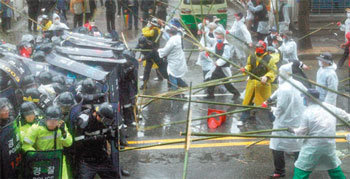 Members of the Korea Cargo Transport Workers Union wield bamboo flagpoles at riot police on roads near Daejeon Dongbu Police Station Saturday.
After their gathering at the south gate of Daejeon Government Complex, the reported place of their assembly, protesters marched towards the building of Korea Express, a major logistics company.
When they were stopped midway by riot police, they began wielding bamboo sticks three to four meters long that had served as flagpoles for their slogans. The ends of the flagpoles became pointy after they clashed with road surfaces and riot police shields.