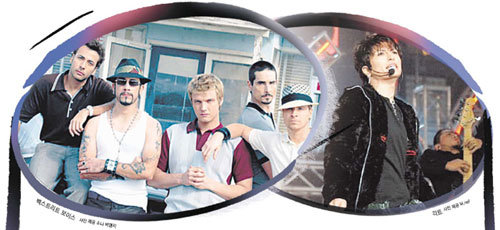 Who to choose- the five good-looking men or the charismatic rocker?
At 6:00 p.m. on Saturday, January 14, the popular U.S. boy band "Backstreet Boys" and Japanese rocker Gackt (33) will hold concerts at the Gymnastic Stadium and Fencing Stadium in the Olympic Park of Bangi-dong Seoul respectively. They made their rebut in 1995. Both singers gained popularity among Korean fans in the late 1990s, but this is the first time they are performing in Korea. The industry is of the consensus that this will be an unprecedented competition of concerts between big stars.
Most of the Audience Women in Their 20s…Ticket Sales about the Same-
Ticket sales show a neck-to-neck race. According to Interpark, an internet ticket sales website, as of January 9, in terms of gender or age, both concerts showed high popularity among those in their 20s and women. In the case of the "Backstreet Boys," those in their 20s comprise 60.5 percent and those in their 30s 15.4 percent; for Gackt, the 20s comprise 60.6 percent and 30s 12.2 percent, showing that people in their 20s and 30s take up more than half of the total audience. The number for those in their teens was low for both performances, standing at only 5.4 percent and seven percent respectively. Regarding gender, women took up an overwhelming 75.7 percent and 84.3 percent for each concert respectively.
However, in the ratio of ticket sales to total seats, Gackt surpassed "Backstreet Boys." In the case of the "Backstreet Boys," 4,400 tickets out of the total 8,500 were sold, recording a sales ratio of 51.7 percent while for Gackt, 4,800 tickets were sold out of 5,400, recording a ratio of 88.8 percent. The gap comes from the difference in the size of the concert venue while the number of tickets sold are similar.
Into the Heat of Youth!-
The two teams made their debut and actively performed at similar times. However, their two concerts could not be more different. The "Backstreet Boys," pursuing soft and sensuous pop-dance music, promise a "cool" concert, while Gackt, with a passionate guitar sound, can be expected to hold a "hot" concert.
The "Backstreet Boys" made their debut in 1995 and gained many female fans with typical soft pop-dance music of teen idols. They recorded over 32 million sales in the U.S. alone and led the boy band frenzy at the end of the 20th century with their rival "'N Sync."
The concert they will hold in Korea is part of a 5-nation tour in Asia to promote their first album in five years, "Never Gone." They will perform songs such as their debut song, "We've Got it Going On," the global hit that made the ghost dance their mark in 1998, "Everybody," the calm pop ballad "Shape of My Heart," and the recent hit rock ballad "Incomplete."
Gackt made his debut as the second term vocal of "Malice Mizer," the Japanese visual rock band in 1995. He is also a big star with many fans in Korea. Due to his popularity, he released his album "Love Letter," sung in Korean, in Korea last June.
In this concert, part of an Asian promotion tour for his new album "Diablos" released last September, Gackt is planning to sing and head bang dressed as a medieval knight as he has always insisted that he was "born in 1540." Fans will be able to enjoy various types of Gackt's music from hard rock like the no. 2 hit on the Oricon chart "Another World" and "Vanilla" to soft rock ballads like "Aritakenoaiteni."
Much Interest on Sound and Event Competition-
The "Backstreet Boys" are no longer "boys" by age. Only Nick Carter (26) and AJ McClean (28) are in their 20s. Brian Littrell (31), Howie Dorough (33), and Kevin Richardson (35) are all in their 30s. They no longer have competitiveness in terms of being cute or eye catching like typical boy bands. Therefore, much interest will be focused on how their sound or concert contents have matured.
Gackt, who has an image of a rebellious leading figure in comic books, is also over 30. His music style has changed from his typical explosive "headbanging rock" to ballad rock. Korean singer Na Hoon-a also entered the stage on a horse like a medieval knight in a recent concert. It remains to be seen how different the symbol of Japanese rock, Gackt's version of a "medieval knight" will be.
bsism@donga.com