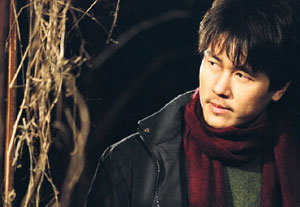 The new movie "Spider Forest," releasing tomorrow, is an unusual movie that drives audiences to solve a puzzle that never ends. Some of the puzzles are disfigured, some others are switched to another puzzle, some are identical to each other, and some are missing.
Director Song Il-gon (Flower Island, 2001) said at the recent preview, "This movie can be difficult. I recommend people enjoy 'Spider Forest' as if they were watching someone else's dream." But, technically, it is not a difficult movie, just one that makes audiences dizzy. With the plot being developed through time back and forth from the present to the past, the key appreciation point is the attitude of taking in all the strong visual images as real, rather than trying to find the perfect storyline by putting all the scattered information together.
Widower Gang Min (starred by Kam woo-seong) is a TV producer who chases supernatural phenomena. One day he receives information about a legendary mystery forest, a "spider forest," from one of his viewers. While tracking the forest, he encounters an enigmatic woman, Min Su-in (starred by Seo Jeong), who runs a photo studio. And he witnesses two dead bodies at a mountain cottage in the spider forest. Surprisingly, one death was the director of his bureau at work, who treated Gang Min cruelly, and the other was an anchorwoman Hwang Soo-yeong (starred by Gang Gyeong-Heon), who had an affair with him. Being mugged by a stranger, he loses consciousness. After retrieving his consciousness, he has a car accident in a tunnel. After waking up from his comatose state, he finds himself a leading suspect in a murder case. He starts to retrace his steps back through his memories.
"Spider Forest" belongs to the mystery thriller genre, but its sophisticated editing makes the movie devoid of fast story development, the major feature of a mystery thriller. Instead, it endeavors to sound "illogical," using plenty of precise methods. Why does the woman in Gang Min's memory only show her back? Why does the face of his dead wife turn into anchorwoman Hwang Su-yeong's? Who is the man stalking Gang Min? There seem to be endless questions if you start to doubt. However, rather than playing a truth-finding game, the director seems to have more interest in the fact that the past (or the truth) can have several different versions of its own, created by imperfect biased memories, confusion, or traumatic mental injury.
Actor Kam Woo-seong, who stars as Gang Min, radiates with cold and sharp charm, like the way he did in the movie "R-Point." His metallically husky voice oddly arouses sexual feelings when he articulates each word one by one. Seo Jeong, who acted in two roles—the dead wife and Min Su-in—displays a strong expressive power of existence. Gang Gyeong-heon, who has slowly made herself known to audiences through TV dramas such as "Couple Clinic-Love and War," exhibits through her sex scenes how alive, beautiful, and lethal an oppressed woman's back is.
It is tantalizing. Within the audiences' reality of having only two categories of movies— "interesting" and "boring"—rather than "good" and "bad," will "Spider Forest," an artist's movie with a thriller's outfit, be able to answer that simple question raised by audiences? The question is "So what?"
This movie has been invited to compete at the 52nd San Sebastian International Film Festival in Spain. It is rated for people who are over 18 years old.
Seung-Jae Lee sjda@donga.com