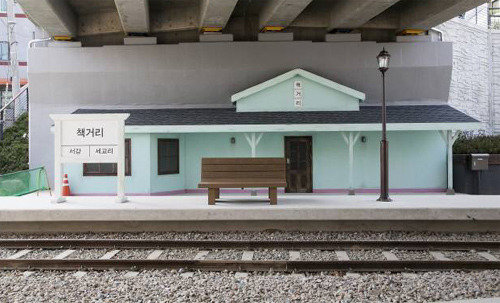 The Mapo Ward Office announced on Wednesday that the district office will open a new theme street "Gyeongui line book street" on Friday in the "Gyeongui Line Forest Park" sitting in front of the bustling Hongik University subway station. The new theme street will be located at the book street square of the forest park. Mapo officials said, "As a cultural landmark, the Gyeongui line book street will provide visitors with past, present and future of books in the green space.
The book street has been built given the unique characteristics of the area. About 3,909 publishing and printing companies are concentrated in Mapo, and 1,047 companies among them are operating around the Hongik University area. The high density of book companies in this region contributed to the creation of a 250-meter-long book street from the gate 6 of the Hongik University subway station to the Wow Bridge.
The Gyeongui line book street introduces some interesting installations and artworks to book lovers. A train-shaped book booth, a sculpture, which is engraved with the top 100 most loved books of Seoul citizens, a letter sculpture, a mini platform featuring history of the Seogang Station and the old train tracks will let visitors explore the world of books. The train-like book booth consists of 14 cabins, each with different themes such as literature trail, humanities trail, children trail and travel trail. Cabins will also host promotional events, exhibitions and a variety of cultural programs.
The book street will be operated and managed by the Korean Publishers Cooperative for the first three years. It opens from 11 a.m. to 8 p.m. and closes on Monday. "When it comes to the risk of poor academic performance being passed down to children, reading books is a good solution," said Park Hong-seop, head of the Mapo district. "Visitors coming to the Hongik University area will enjoy unique experiences."
노지현기자 isityou@donga.com