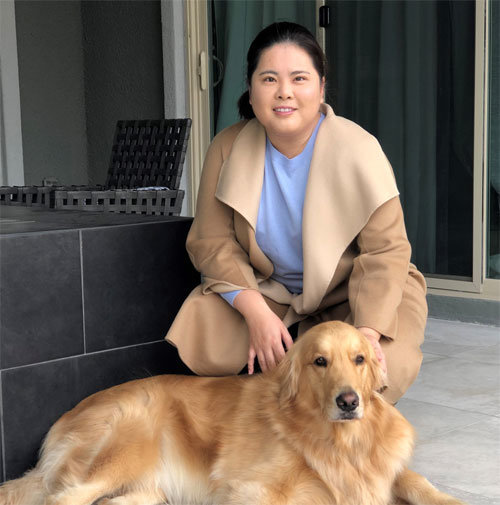 Korean LPGA players Park In-bee and Park Sung-hyun have something in common because of special bond with their pet dogs.
Park In-bee is living with a golden retriever called "Rio," whose weight is nearly 40 kilograms, at her home in Las Vegas, the U.S. Rio was a present from her husband and swing coach Nam Gi-hyup immediately after winning the gold medal at the 2016 Rio de Janeiro Olympics. She loves her dog so much that she took Rio with her when she moved to the U.S. last year.
It has been more than 20 years since Park In-bee had a pet dog. "Sammy," her first pet dog from she was a 6th grader, accompanied her in 2001 when she went to study in the U.S. "Sammy comforted me a lot whenever I was lonely or having a difficult time in an unfamiliar country," she said. "Rio also helps me heal. I don't even know how my day is going when I enjoy various activities with Rio."
Meanwhile, Park Sung-hyun has two dogs called "Daon," a Labrador Retriever, and "Ato," a Rottweiler, at her home in Gimpo, Gyeonggi Province. Each of her two pet dogs weighs over 30 kilograms. She met Ato in the U.S. but had to send Ato to Korea to have her mother and sister take care of the dog as she spent most of her time away from him. The name "Daon" means "all the good things are coming" and "making all on green." "Ato" is a pure Korean word that means present. Two weeks after adopting Ato in the U.S. in 2017 when she was going through a slump, she won the at the 2017 U.S. Women's Open.
"I had many good news after I got my pet dogs. It makes me pleasant when I look at them,' said Park Sung-hyun, who posts pictures and video clips with her dog on her SNS accounts. "Pets are a special being like family and friends. I make video phone calls since I am far away these days."
Golf is said to be a fight by oneself. No one can do it for players because they have to be the one to make decisions, not alone to be responsible for the result. "Golf demands high concentration and the ability to overcome emotional ups and downs," said Jang Deok-seon, sports psychology professor of Korea National Sports University. "Emotional stability and buffering of emotions by having pets will also make a positive influence on one's competition power."
Jong-Seok Kim kjs0123@donga.com