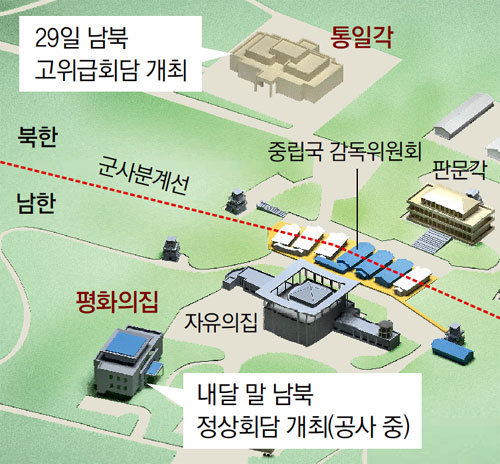 The Peace House in the southern border village of Panmunjom is under renovation for the inter-Korean summit to be held at the end of next month. It is interpreted as a move to show that Panmunjom's facility is good enough for the summit after the government mentioned the possibility of holding regular summits at Panmunjom.
"The Peace House is undergoing a renovation work," said a government insider on Sunday. "It is to improve facilities of the venue."
The Peace House, managed by the National Intelligence Service, has been thought to be outdated to hold summits as 30 years have passed since it was built on Dec. 19, 1989. Journalists had to move to the Freedom House to send articles during the high-level talks in January because the three-story building's press room on the first floor was not equipped with LAN cables. It is known that the renovation work also covers footpaths for North Korean leader Kim Jong Un who would walk to the Peace House from the Military Demarcation Line.
"There is a conference room on the second floor, and a main conference room on the third floor," said another government official. "The official lunch and dinner may be held on the third floor."
The working-level talks on Thursday ahead of the summit will take place at the Tongilgak on the North Korean side of Panmunjom as the Peace House is under renovation. Participants include three South Korean delegates including Unification Minister Cho Myoung-gyoon and three North Korean delegates headed by Ri Sun Kwon, chairman of North Korea's Committee for the Peaceful Reunification. North Korea has been prudent about the summit, which is shown by the fact that it answered to the suggestion of South Korea on Saturday, more than two weeks after the South Korean envoy met with Kim Jong Un on March 5 in Pyongyang. An official from the Unification Ministry said, "The agenda is open as of now."
In-Chan Hwang hic@donga.com · Hoon-Sang Park tigermask@donga.com