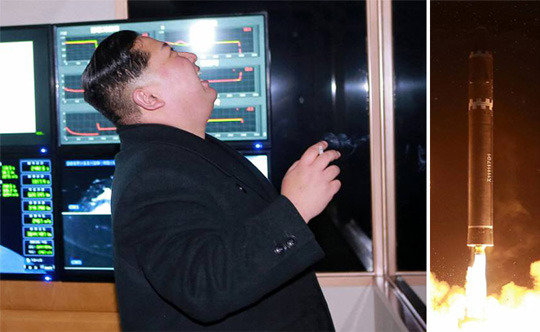 In response to North Korea's latest test-firing of the Hwasong-15 missile, a new type of intercontinental ballistic missile (ICBM), the United States plans to triple the number of the F-35 stealth fighter jets to be deployed for the joint air force drills with South Korea in December. In addition, the United States is geared towards containing Pyongyang's overseas trade activities by utilizing anti-submarine patrollers P-3 and P-6, in conjunction with the Five Eyes, the core allies consisting of the United States, Britain, Australia, Canada and New Zealand.
Washington is pursuing a tripartite pressure and sanctions strategy whereby the military pressure is ratcheted up by expanding the deployment of strategic assets and containing sea routes, the UN Security Council pushes for a new resolution to cut off oil supply to the North, and Washington additionally devises economic sanctions on its own against Pyongyang.
"North Korea is engaged in overseas activities prohibited by the United Nations, and it is necessary to detect and respond to them," said an official from the U.S. government. "That's why, we have called for the Five Eyes countries to strengthen the patrolling on submarines in the seas off North Korea."
"President Trump spoke with Chinese President Xi Jinping and asked him to cut off oil supply to North Korea," U.S. Ambassador to the United Nations Nikki Haley said at an emergency meeting of the UN Security Council. "If (nuclear) war comes, make no mistake, the North Korean regime will be utterly destroyed." She also urged all UN member states to cut diplomatic and trade relations with the North while calling for suspending Pyongyang's voting rights at the United Nations.
Jeong-Hun Park sunshade@donga.com