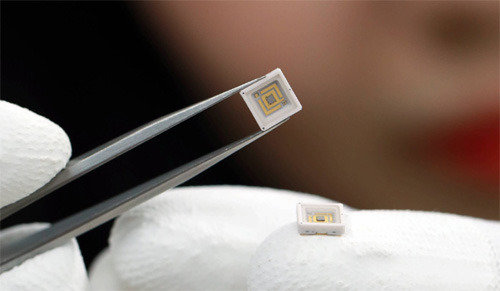 A domestic electronics maker has developed a purifier capable of sterilizing running water. The new technology will also feature atmospheric sterilization inside a car or a refrigerator. Such feature has been made possible thanks to the introduction of an LED technology emitting powerful sterilization rays.
On Monday, LG Innotek held a press conference at Seoul Square and announced the development of a UV-C LED whose sterilizing UV ray level reaches 100mW. The feat of reaching the "100mW milestone" has been achieved three years earlier than the target year of 2020 proclaimed by Nikkiso, a Japanese LED developer boasting the strongest technological prowess in global market.
The 100mW UV-C LEDs can be utilized not only for water purifiers but also for the indoor purification of vehicles, building coordination systems, or large-sized water processing facilities.
The light output of typical UV-C LEDs in the local market is merely 2~8mW because they are used for surface sterilization of smaller appliances. The newly introduced LED technology can be used for running water or in the air, thanks to its powerful light output. Both LG Innotek and Nikkiso had reached the marks of 70mW and 40mW in light output, but neither entered the phase of commercialization.
"We are going to supply UV-C LEDs for the water processing facilities by the first half of next year," explained an official from LG Innotek. Doing so will make LG Innotek the first company to have supplied 100mW LEDs for the fields of water processing and coordination.
Jae-Hee Kim jetti@donga.com