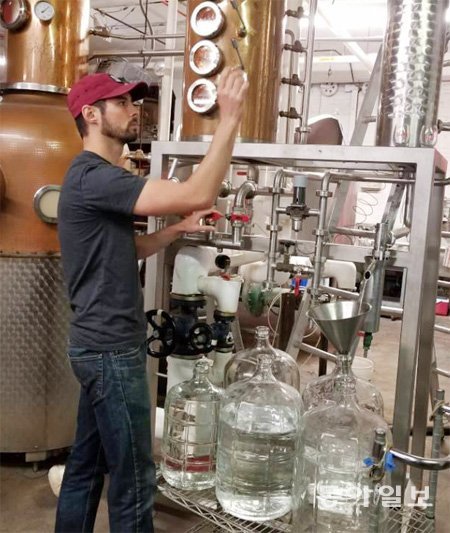 The increasing popularity of Korean food and side dishes in the United States is giving birth to rice wine and soju breweries. New rice wine breweries include New York draft rice wine and Kirin Steakhouse rice wine in Seattle, other than those exported from Korea such as Kooksoondang, while "American soju" breweries are also increasing.
Now soju is popular enough for American actor Jonathan Bennett to call out "soju bomb" at an event to promote the 2018 PyeongChang Olympic Games in New York last month.
The entrance of Van Brunt Stillhouse in Brooklyn, New York, gave off a sweetish scent of liquor. Brandon Hill from South Carolina was distilling clear liquor from a brown distiller in the dark brewery. It was undiluted, 80-proof soju, whose smell itself was intoxicating. Hill majored molecular biology in University of Hawaii and learned brewing in Korea in 2011. He showcased "Tokki Soju" last year in the Brooklyn-based brewery by applying American brewing methods to Korean traditional soju-making.
"I only use cultivated wheat malt from Korea, yeast from Brooklyn and organic glutinous rice from California without any sugar or chemical additives," said Hill. "I wanted to introduce the real taste of Korea's traditional soju to the United States."
Imported soju costs around three dollars per bottle, but two types of Tokki Soju, 23-percent and 40-percent alcohol content, are sold at around 30 to 40 dollars. "I have developed omija soju this year, and will launch soju made of persimmon leaf tea," he said. "Someday, I want to brew rice wine, which is difficult to produce and store."
"Yobo Soju" made by Caroline Kim, a Korean-American lawyer, is also popular in high-end restaurants in New York. "Pure soju made from natural ingredients has opened up a new market and received good responses from American consumers," said Chef Shin Yong-sup who runs a Korean restaurant "Insa" in Brooklyn. "It improves the quality of soju and Korean food."
However, localization of soju and rice wine is still at its infancy. The total output of Tokki Soju, of which Hill is the only producer, is around 400 to 500 bottles a month. When it comes to Japan's sake, it advanced into overseas when the domestic consumption rapidly decreased and the number of breweries fell to one-third of its heyday due to aging population. Sake has been exporting doubled over the past 10 years.
"Korea's drinking culture where a group of people drink and eat together while sharing their stories appeals to many Americans who drink alone at a bar," said Hill. "I hope Korean liquor could also take root in the United States along with the drinking culture, just as sake has become successful thanks to the popularity of sushi."
Yong Park parky@donga.com