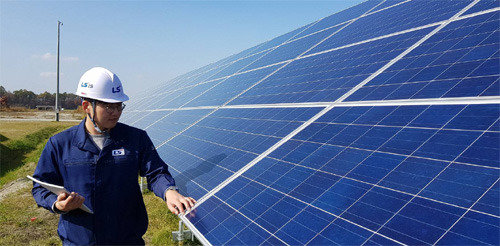 South Korea's LS Group has completed its joint construction of the largest solar power plant in Hokkaido, Japan with Korea Electric Power Corporation (KEPCO). LS Group said it held a ceremony on Thursday in Chitose, Hokkaido to mark the start of the commercial operation of the a 28-megawatt solar farm with top managers from the companies attending.
The Chitose facility is Japan's first energy storage system (ESS)-linked solar power generation in Japan. About 130,000 solar panels and 13.7-megawatt hour ESS have been set up on about 1,080,000 square meters of land. The power generated by the plant will be sold to the grid over the next 20 years at 40 yen per kilowatt hour. KEPCO expects to earn 31.7 billion yen (279 million U.S. dollars) in sales and about 6.4 billion yen (56.3 million dollars) in dividend income by producing 28 megawatts of electricity enough to power 10,000 households annually.
LS Group Chairman Koo Ja-yeol said it was "symbolic" for the Korean companies to build Hokkaido's largest solar power plant. "The successful project will reinforce LS Group's leadership in the energy industry paradigm by combining new technology with the power generation sector in which LS has strengths."
LS plans to prove its technological prowess in the solar power generation field through the plant and focus on making forays into global markets based on its industrial know-how. According to U.S. market research agency IHS Market, the global solar power market amounts to 68 gigawatts this year, up 17 percent from 2016, and is expected to grow to 73 gigawatts next year.
Ji-Hyun Kim jhk85@donga.com