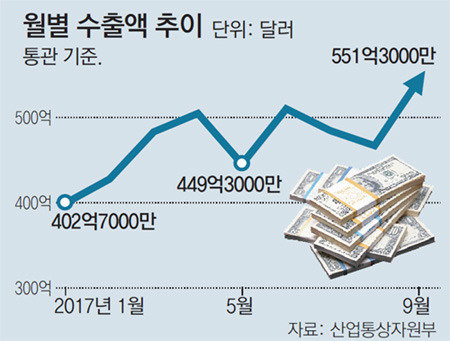 Korea's export surpassed 55 billion U.S. dollars to reach all-time high in September. The figure is larger than the nation's annual export reaching 47.3 billion dollars in 1987. With the global economy on track to recovery, Korea is expected to rejoin the trade league with more than 1 trillion dollars in three years.
According to data released by the Trade, Industry and Energy Ministry on Sunday, Korea's export amounted to 55.13 billion dollars (customs clearance basis) in September. The figure is the largest monthly amount since Korea started tallying related data in 1956, and is worth more than the entire annual in 1987. The average daily export in September came to 2.35 billion dollars to set a new record as well.
Undoubtedly, the semiconductor business spearheaded the growth of the nation's export in September, as it recorded a 70 percent annual increase to 9.69 billion dollars, setting new a record for two consecutive months. Semiconductors accounted for 17.6 percent of the nation's overall export. Excluding semiconductors, the export growth was 5.7 percent lower to stand at 29.3 percent year-on-year last month.
In term of steel export, hiked prices and increased export of steel structures for large engineering projects helped Korea's steel export to surge by 107.2 percent year-on-year to hit an all-time high.
Hee-Chang Park ramblas@donga.com