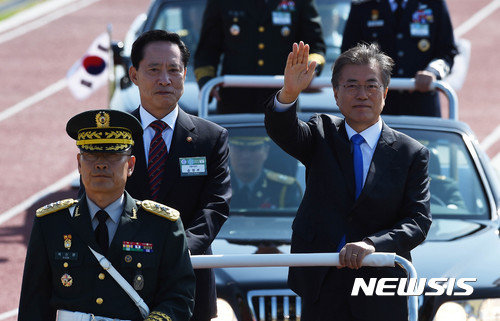 President Moon Jae-in has stressed a need for early transfer of wartime operational control. "The takeover of wartime operational control based on our independent defense capabilities will remarkably improve our military fundamentals and capabilities," the president said on Thursday. "The North will fear us more if we regain wartime operational control."
"Our military must be ready to win," President Moon said at a ceremony marking the 69th Armed Forces Day held at the Korean Navy 2nd Fleet in Pyeongtaek. "The top priority is to secure capabilities to defend our nation against North Korean nuclear and missiles threats." This was the first time an Armed Forces Day ceremony was held at the Navy 2nd Fleet, which bravely fought against deadly attacks by the North such as the bombardment of Yeonpyeong Island and torpedo attack on the Cheonan warship.
"We can neither safeguard the nation nor make peace without having strong defense," the president said. "Our government's resolute determination to safeguard peace is based on our strong military capability, and any reckless provocations will be met with strong punishment."
He also put emphasis on early handover of wartime operational control, along with stronger joint defense capabilities of South Korea and the United States. This remark shows his determination to strengthen nuclear deterrence through mutual defense treaty, including protection of nuclear umbrella by the United States and, at the same time, develop independent national defense capability through transfer of wartime operational control at a time when the North's nuclear threat is growing day by day.
In particular, the president has unveiled his vision to bring peace on the Korean Peninsula by striking balance between major powers in the Northeast Asia, such as China, Japan and Russia by strengthening independent defense capabilities. "South Korea will be a security hub of Northeast Asia," he said.
weappon@donga.com