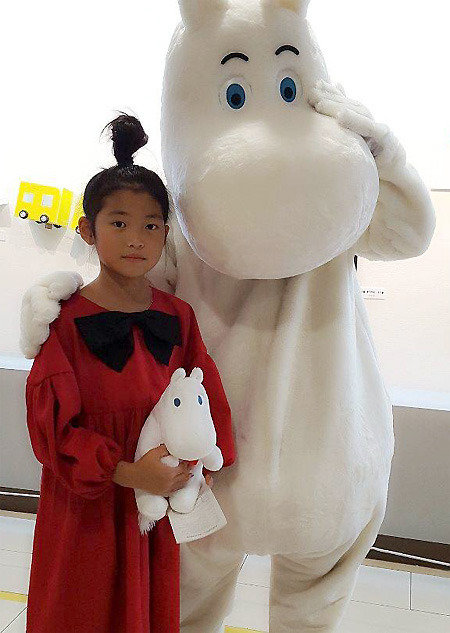 Hair tied up high into a bun, a red dress, and a ribbon around the neck. Anyone who dresses up as "Little My," a tomboyish friend of the Moomin family, can have a free admission to "Moomin Original Artworks Exhibition" during this Chuseok holidays.
"Moomin Original Artworks Exhibition," which is currently held in Seoul's Hangaram Design Museum, is hosting an event for visitors during the Chuseok holidays. "Little My Cosplay" event will be held from this coming Saturday to Oct. 9, and spectators dressed up as Little My can have free admission. In addition, spectators wearing clothing with Moomin characters can also receive 50% discount on admission ticket during the event dates.
On Tuesday and Wednesday next week, visitors wearing Hanbok can also purchase admission tickets at 50% off. On Chuseok, the Korean version of Thanksgiving, which falls on Oct. 4, an event titled "Moomin Mascot Suit Wearing Event: An Extreme Job Experience" will be held as well. At 11 a.m., and from 1 p.m. through 5 p.m. on the day, those who sign up can wear Moomin masks for 15 minutes. Also, participants will receive a special doll, worth 25,000 won, as a gift, which is only available for purchase at "Moomin Original Artworks Exhibition."
A gaming event titled "Win against Moomin" will also take place from Oct. 5 to Oct. 9. The hours will be announced every morning on the Facebook and Instagram pages of "Moomin Original Artworks Exhibition." At the 30-minute game, participants will play a quick game of Rock-Paper-Scissors with Moomin. They will receive Moomin postcard for one victory, Moomin notebook for two consecutive victories, and a free invitation ticket to "Moomin Original Artworks Exhibition" for three consecutive victories.
"We wish visitors can spend a relaxing time with the episodes of love and friendship of the Moomin family, written by Finnish artist Tove Jansson," said an exhibition staff. The details about the Chuseok holiday events will be posted on the official pages of Facebook and Instagram. The exhibition continues until Nov. 26.
Min Kim kimmin@donga.com