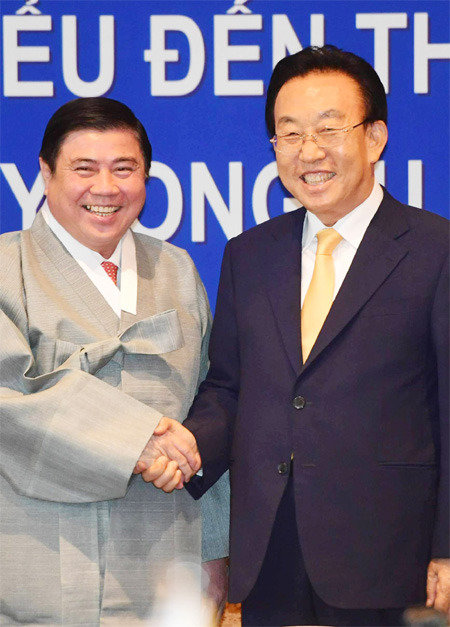 "The 2017 Ho Chi Minh-Gyeongju World Culture Expo will serve as an opportunity for Korea and Vietnam to further improve their cooperative relations to become a family that shares feelings and hearts," said Kim Kwan-yong, chief of the organizing committee and the governor of North Gyeongsang Province.
The Gyeongju World Culture Expo with the 20-year-long history was first held overseas in Angkor Wat, Cambodia in 2006. Seven years later, Istanbul, Turkey held the second overseas expo, attracting as many as 5 million visitors. Such experience along with the capability proven through previous expos was what propelled the third of its kind, the 2017 Ho Chi Minh-Gyeongju Expo.
"Vietnam and Korea have seen increased economic cooperation," Kim said. "It is crucial that the two countries should expand cultural cooperation to further enhance economic cooperation."
The Ho Chi Minh City, which is the country's economic center, is host to many Korean companies. In fact, almost half of some 4,600 Korean companies that operate in Vietnam have their presence in the city. Also, Vietnam is one of Korea's top three trade partners alongside the United States and China in overseas investment and export. Besides, Korea is called the "in-law country" of Vietnam as there are nearly 50,000 Korean-Vietnamese married couples.
The North Gyeongsang Province has maintained its ties with the Southeast Asian country for 12 years since it introduced a Saemaul new rural development program in Thai Nguyen Province in 2005. Last year, the provincial government established a rural development center of Saemaul movement at Vietnam National University in Ho Chi Minh City.
Kwon-Hyo Lee boriam@donga.com