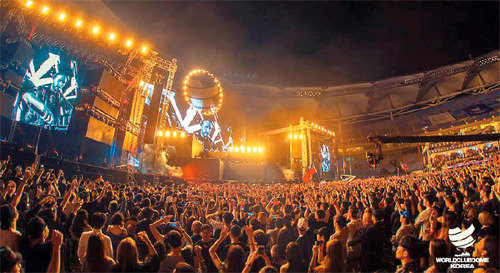 The World Club Dome Korea opened its first-ever event under the slogan the World's Biggest Club in Incheon from Friday to Sunday. The World Club Dome is Electronic Dance Music festical that was founded in Frankfurt, Germany in 2013. Last year's event, which was held in Germany, attracted approximately 135,000 people from across the world. This year's event in Incheon attracted some 120,000 people, including 22,000 foreign fans.
"The initial goal was to attract 20,000 foreigners but more people came to the event," said Lim Hee-yeon, deputy director of the Strategic Products Team at the Korea Tourism Organization. "In particular, more than half of the VVIP seats, which costs more than 10 million won per seat, were purchased by foreign fans."
The Electronic Dance Music festival, which has broad hardcore fans, is to be held in Korea for five consecutive years. The Korean government sees this event as an opportunity to develop new contents for culture and tourism and diversify the market, not least attract young tourists. According to an analysis by the Hana Financial Investment, the scale of the global EDM market has been growing 16 percent annually since 2012 and the market was worth 7.1 billion U.S. dollars (approximately 8 trillion won) in 2015. The Korea Tourism Organization and the Incheon Tourism Organization have been assisting MPC Partners that acquires the exclusive right to hold the event in Asia, which has high potential for growth, by promoting the event in Korea and abroad from January 2017.
"The tour products such as Club Cruise product, where tourists can enjoy parties on their way to the event, was canceled due to the Chinese tourism boycott, but we will try it in next year's event," said Jeong Jin-soo, the Strategic Products Team chief at the Korea Tourism Organization. "We will make efforts to diversify the tourism market by using global culture and tourism contents such as Electronic Dance Music Festival."
Ga-In son gain@donga.com