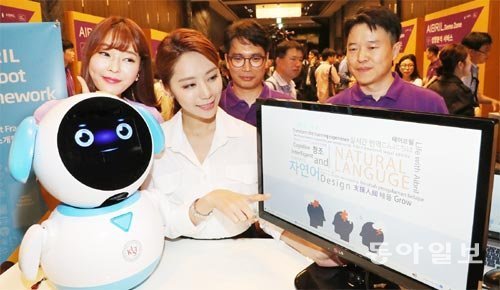 IBM's artificial intelligence platform "Watson" is ready to hit the Korean market and will provide a variety of services in Korean language. SK C&C has launched a Korean version of Watson, which is expected to help not only traditional companies or start-ups but also individuals build their own AI platforms quickly and expand the AI business.
With the Korean version of Watson, named as Aibril, individuals can create AI-based services. During a promotional event of Abril held last month, non-tech people and students developed new services in only one day after using the Korean APIs for the first time. For example, they invented a service to help the blind search information or a service that processes pictures of exercise equipment to let users know how to use them. Participants were guided to choose and combine their preferred APIs to build their own services on the Abril portal.
"API is not complete product by itself," said Lee Mun-jin, head of the Aibril business division at SK C&C. "The Abril platform will integrate industrial data and open source data with APIs and solutions provided by SK C&C."
Watson has been used in multiple sectors in 17 countries, using seven languages including English, French, Italy, Spanish, Brazilian, Arabic and Japanese. Watson-based AI lawyer "Ross" was hired by a U.S. law firm in May. SoftBank's Pepper, AI robot using interface built on Watson, has been employed for customer service. In addition, AI-related applications have been used for underwriting tasks and cancer treatment at medical facilities.
Dong-Jin Shin shine@donga.com